Using artificial intelligence to stem the huge flow of returns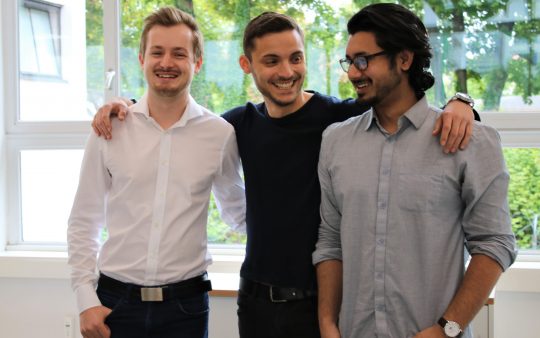 Improving sustainability in the textile industry requires a change in thinking in many areas. We urgently need to reconsider consumer behaviour on the one hand while also taking a long hard look at supply chains and manufacturing conditions on the other. There are new digital solutions out there that now that can help in such matters. The fewer products that are shipped around the world, the better this is for our CO2 balance, for example. Consequently, all sorts of new digital possibilities are being tried and tested to promote new developments and patterns of behaviour in an effort to reduce "real" production.
Today, the fashion industry generates a huge quantity of returns which are sent back because they are the wrong size or do not fit properly. Customers commonly order a shirt in two or three different sizes, following the thinking that one of them is bound to fit and the others can be returned. This where the invention of the Munich startup Presize.ai comes in.
Body scanning in seven seconds
The three founders of the company have developed software which can determine the end-user's clothes size with the aid of a smartphone camera. The technology enables you to determine your exact fit without going to a lot of effort, so that you know just what size garment you need when buying from an online store, for example. The potential of this technology to save huge amounts of returned goods is enormous. It does not just mean a big reduction in the amount of CO2 generated by avoiding shipping goods unecessarily, logistics can also be vastly simplified and huge savings made.
Staying with the example of an online store: the customer is presented with a "find size" button on the shop's website. There he is told how to position his smartphone so that his statistics can be correctly recorded. As the user turns through 360 degrees, the smartphone records a video which is then used to create a 3D model. Afterwards, a few more data are collected, such as height and preferred fit. Now the computer can select and suggest garments that are a correct fit. This tool makes it possible to reduce the number of size-related returns by over 50 percent.
Do you have to be naked when being scanned?
Not at all. Your body is scanned while you wear your normal everyday clothes. Nothing needs to be downloaded either. Presize works directly through your browser. The only hardware required is your smartphone.
As accurate as a tailor
The videos are produced anonymously and then deleted again as soon as you have been properly measured. The system may sound banal, but, according to Leon Szeli, one of the founders of Presize, it can already measure as accurately as a professional bespoke tailor.
As well as a large number of online stores, many online tailors, studios and large workwear suppliers already feature among Presize's customers. The latter, in particular, is a very important target for Presize, because occupational clothing has to fit properly to ensure it is safe and comfortable to wear during long working days.
Presize was founded by Leon Szeli, Awais Shafique and Tomislav Tomov in 2019 and has gained the support of several well-known investors in the meantime.
Image: Presize
Text: Reiner Knochel