SENATOR CEO takes over KAHLA Porzellan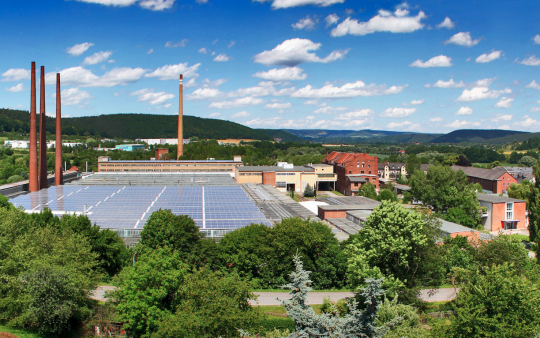 Daniel Jeschonowski, owner of the promotional product specialist SENATOR GmbH, took over the long-standing company KAHLA/Thüringen Porzellan GmbH on 1 September. Through this move, the Senator boss secured the cult brand's porcelain factory in Thuringia with its "Made in Germany" strategy.
After the internationally esteemed porcelain manufacturer KAHLA/Thüringen Porzellan fell into a liquidity squeeze due to a failed major order and had to file for insolvency under its own management on 10 March 2020, the search for an investor was successfully concluded on 1 September 2020 with a change of partners. Daniel Jeschonowski, who already acquired SENATOR GmbH in December 2018 and turned it back into a pure family business following successful restructuring and market reorientation, is now pursuing the same goal with the takeover of KAHLA/Thüringen Porzellan GmbH: securing the continuation of operations at the company's traditional location. For the future, Jeschonowski is pursuing a course of maximum continuity. The two companies SENATOR + KAHLA will continue to operate independently of each other in their respective industries and business fields. Jeschonowski underlines his position towards Germany as a production location. His top priority is to maintain and expand innovative strength and manufacturing competence.
"Made in Germany" strategy 
"Nothing is more sustainable, future-oriented and meaningful for a German entrepreneur than manufacturing and individualising high-quality products at home. A systematic Made in Germany strategy is the right way for both SENATOR GmbH and KAHLA to maintain and create unique selling points on the global market. I am extremely grateful to the Raithel family for raising their child KAHLA who deserves a great future. All Raithels will always be welcome at the factory and I very much hope that we will be able to celebrate together again soon. I am looking forward with confidence and vigour to the future of a first-class lifestyle brand with strong trading partners in the four business segments Household, Hotels and Gastronomy, Promotional Products and Contract Manufacturing. I will look after KAHLA with respect and gratitude," explains entrepreneur and change expert Daniel Jeschonowski.
Traditional company history
KAHLA looks back on a long company history. In 2019, the company celebrated 175 years of company history since its foundation in 1844 and, at the same time, 25 years since its refoundation after the fall of the Berlin Wall. Since then, KAHLA has been awarded more than 100 international design prizes for innovative product design as well as intelligent and ecological concepts.