New production hall in operation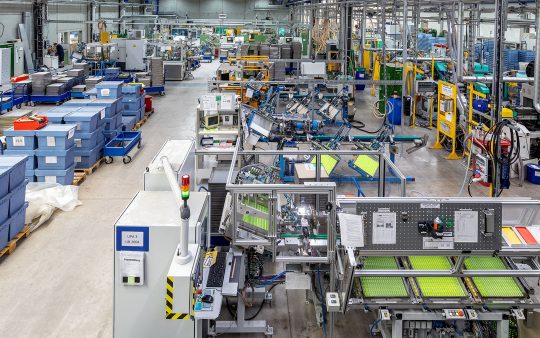 A new production hall with an area of 1,400 m2 for manufacturing spirit levels has recently been put into operation by measuring tools specialist Stabila at its Annweiler site in Rhineland-Palatinate. The company has invested more than 5 million euros in the new building and the new machines installed there. This is Stabila's response to the increased demand for high-quality spirit levels "Made in Germany".
Optimised processes
Stabila has always manufactured all its spirit levels, which are sold in over 80 countries worldwide, in Annweiler – up to 10,000 each day. The new building has now created additional space to further optimise the processes in various areas – prefabrication, plastic production and assembly – to integrate new machines into the existing production process and thus to achieve even higher quantities.
High vertical range of manufacture
Characteristic for the production of spirit levels at Stabila is the high vertical range of manufacture. Only raw materials such as metals and granulates are purchased. All parts that make up a spirit level are then produced and assembled in Annweiler. "Only in this way can we guarantee the high Stabila quality at all times", explains Managing Director Dr. Ulrich Dähne. The company has placed particular emphasis on good ergonomic operation with convenient material input and output for all machines which have now been purchased for the new building as well as those purchased in recent years. Fast, continuous processing also results in a high degree of economic efficiency. "Our continuous investments are a strong sign for the secure future of Stabila and the jobs of our employees", concludes Dähne. www.stabila.com
Photo: A new hall with an area of 1,400 m2 for manufacturing spirit levels has recently been put into operation by Stabila at its Annweiler site. In the foreground: the spirit level production. Photo: Stabila