PF Concept: Serious about sustainable branding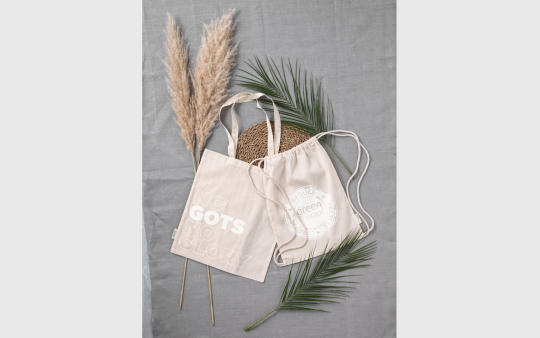 PF Concept is delighted to announce that from October 1st we are offering not only certified sustainable apparel in our Elevate NXT collection. PF Concept is also able to offer certified branding on all GOTS and GRS certified products. This gives the assurance that Elevate NXT products are certified in regards to the whole production process from raw materials used up to the final decoration process.
In January 2020, PF Concept launched Elevate NXT – certified sustainable apparel. This fall PF Concept has added products to the collection, fitting the current situation, with the GOTS certified Calla face mask and Bryn – a GRS certified snood. In January 2021 at least five additional styles and a collection of GRS certified bags will be introduced. The focus is on supply chain transparency, strictly controlled materials, and BSCI audited factories.
The next step in the development of Elevate NXT was to offer certified decoration. GOTS and GRS certified embroidery has been available for several months, but the most important branding techniques for apparel went live on October 1st: certified screen print and transfer. In addition to the Elevate NXT items PF Concept also launched a GOTS certified cotton tote and drawstring backpack called Orissa, with certified screen print and transfer branding possibilities! So a 100% certified cotton tote up to the branding.
"To be able to offer these decoration techniques to the market has been a key priority for PF Concept in 2020. Our teams at our decoration facility in Poland (PFLE) deserve a big compliment for realising this, despite the challenging circumstances we all face this year!" Anne Karine Lemstra, Director of Category Management and Marketing at PF Concept, explains. "The possibility to offer a truly sustainable product from raw material to decoration is unique in our market. Usually you see certified apparel or totes offered at suppliers but you need to find a separate certified printer to keep the certification intact. Via the PF Store you can order a GOTS or GRS certified product and have it printed with certified techniques and inks in just a few days. Assurance meets efficiency." Further information at: www.pfconcept.com