When paper becomes an experience in its own right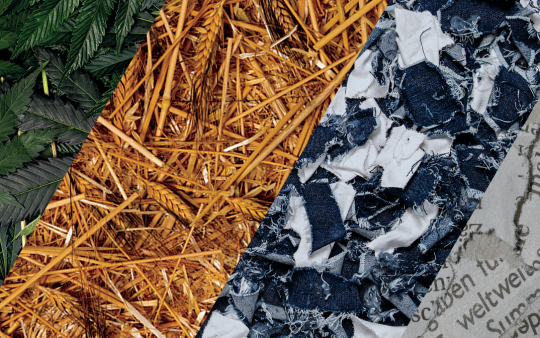 Sustainability has become a watchword in the world of paper too. Alongside wood, raw materials that provide the basis for manufacturing paper include hemp, straw and jute.
Demand for sustainable paper is increasing. Natural raw materials, recycled fibres and mill waste are playing an ever greater part in paper manufacture. Alongside wood fibre, the traditional basis for paper, other natural substances also play a big role today.
As a result, the paper specialist Metapaper, for example, has extended its range to include products made of alternative fibre. Pulp for the company's latest products contains 30-50 % hemp, straw or jute. Metapaper also produces a paper containing 50-100 percent of recycled mill waste from the timber industry. The new materials are typically grainy, have an open-pored finish, natural colouring and a structured feel.
It is the experience that counts
Axel Scheufelen, founder of Metapaper, explains the thinking behind the company's new products, "At the moment there is a definite trend towards greater sustainability and smaller production runs that cover individual clients' needs. Our aim is to cover both these trends with our new types of paper". Axel is convinced that, in future, the ongoing experience of the material the information is provided on will be more important than the actual informational content. Thanks to its feel and appearance, paper made of natural or recycled raw material will become an integral part of the story to be told. Thus, print will become the bearer of emotions and paper the raw material for telling your story.
Raw materials from certified forestry
To ensure that that such quality products are not just available for large print runs, the new paper designs are already available in batches of just 10 sheets and have been developed for HP indigo-digital printing. They can also be used with all other printing processes such as offset printing, dry toner digital printing, riso or letterpress.
One of Metapapier's declared aims is to be the benchmark for sustainable ecological behaviour in the realm of resource management for wood, energy and CO2. It also wishes to lead from the front when it comes to social and economic aspects. As a result, the wood it uses comes from sustainable forestry, being either FSC or PEFC-certificated, or originating from recycled material (FSC-C109510 & PEFC/04-31-1871). Products are made using 53 percent renewable energy and can, at the customer's request, be produced in a climate-neutral way. The company itself uses eco-power.
Text: Caroline Zöller
Image: Metapaper