Focus on hygiene and sustainability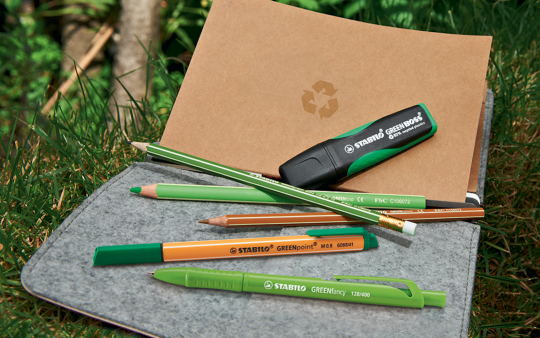 Hygiene and sustainability play a more important role today than ever before. The specialists at STABILO excel in these areas and offer sustainable products made of FSC wood, bio-plastics and recycled plastics as well as writing instruments with antibacterial surfaces.
+++
The use of sustainable promotional products no longer only reaches the target group of people who are quality and environmentally conscious. In the meantime, awareness about the importance of sustainability has reached the broad population and it is almost expected that companies act sustainably including in the promotional product sector. As a family-owned business and global brand, STABILO has always assumed responsibility for people and the environment and sets a model example in the industry with its environmentally friendly products.
The selection of green products is large and offers sustainable advertising opportunities in every category. The STABILO GREEN BOSS highlighter and the STABILO GREENstyle and STABILO pointball retractable ballpoint pens are made of recycled material, the barrel of the STABILO GREENfancy retractable ballpoint pen is made of biodegradable plastic and the STABILO GREENcolors coloured pencils and many other graphite and coloured pencils are made of FSC wood. According to STABILO, the STABILO GREENpoint fibre-tip pen is also "the first pen made from 87% recycled plastic" and has been awarded the Cradle-to-Cradle Silver certificate. With its extensive portfolio of green products, STABILO is positioning itself as a specialist for sustainable promotional pens.
In times of increased hygiene requirements and awareness, the STABILO prime antibac and STABILO bright antibac twist ballpoint pens in white featuring a special surface with an antibacterial effect are also convincing. These modern promotional pens can be passed from hand to hand with a clear conscience: Silver ions in the plastic prevent bacteria from settling on the surface and provide an antibacterial effect. Ideal as promotional products for high hygiene standards. More information is available directly from the company. www.stabilo-promotion.com
Photo: The STABILO Green Family offers numerous sustainable advertising options.