Finding ways of making the forest of road signs greener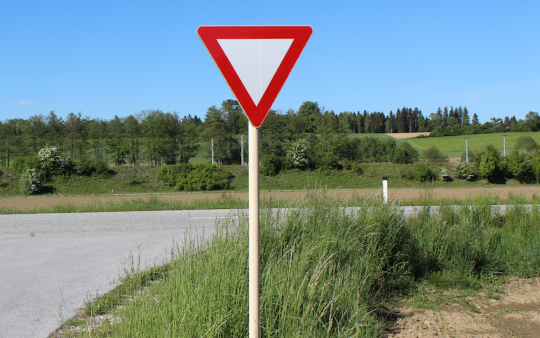 Road signs are generally made of aluminium. In the meantime, however, sustainable alternatives made of bamboo or wood are also available.
Road signs are typically made of aluminium. Although aluminium can be recycled, it is very energy-intensive to produce and generates a correspondingly high amount of CO2. As a result, ITEK, a traffic engineering and sign-posting technology company based in Carinthia in Austria has been thinking about designing a more environment-friendly type of road sign.
Potential for making major CO2 savings
The solution lay in using a different material. Instead of metal, bamboo and Accoya ®, a wood that has been treated to make it more sustainable, play a key role in the company's new Ecoguide product line. Both natural materials are distinguished by having a long service life. The bamboo signs are guaranteed to last for 25 years as bamboo is naturally robust and largely unaffected by wind, sun and rain.
Thanks to the way the wood has been treated, signs made of Accoya® even last for 50 years. Primarily quick-growing tree varieties, such as radiata pine, grown in certified, sustainably farmed woods and plantations, are used in production. The wood is FSC® and PEFC™ certified. The life of the wood is extended by treating it intensively with acetic acid from its surface right through to its very core. As a result, the processed wood absorbs less water, becomes more compact and virtually impervious to damage by micro-organisms.
This means an overall CO2 saving of 10.1 kg in comparison to a conventional road sign made of aluminium. The CO2 value of an aluminium sign is 16.9 kg, while that of a bamboo sign is only 6.8 kg.
Digital printing: how the information gets onto the sign
When producing wooden and bamboo signs, the actual motif is digitally printed to a white, reflective background before being coated in a transparent protective film. Low-emission, microprismatic background foils made by 3M are used for printing. The base and laminated foils are united during the next stage of the process.
ITEK produces the sustainable road signs in the standard triangular, round, square and oblong formats. All Ecoguide signs are checked by TÜV, the German safety standards authority, and meet standard EN 12899. They are also FSC, LEED, BREEAM, Nordic Ecolabel , EN 350, EN 355 certified, as well as meeting the "neutral CO2 balance" requirement set by of Delft Technical University.
The demand for environment-friendly solutions is increasing
The manufacturer sees a lot of potential in the new road signs and is particularly interested in selling them to municipalities who would like to be more sustainable. CEO Elke Kaltenhauser is certain that the bamboo and wooden signs have the potential to revolutionise a whole market sector because the demand for more sustainably produced products is bound to increase in the future.
Images: ITEKS