O Christmas tree, o Christmas tree, your branches green delight us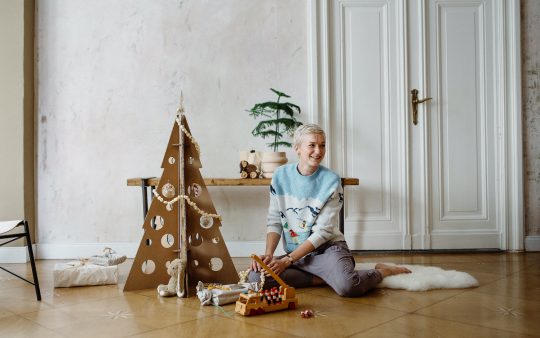 RIAB is famous for its modular furniture. Now, the company has made a Christmas tree that makes the festive season even greener.
RIAB – ROOM IN A BOX produces furniture that primarily focuses on saving natural resources and guaranteeing sustainable production. What is so special is that all the products produced by the Berlin company are made of corrugated cardboard which consists of at least 70% recycled material. The remaining 30 percent are made of fresh fibre from certified forests. The glue used in the production is vegan and made of starch from potatoes, maize, or wheat. No other products are used by the company in furniture production. The jury of the German Sustainability Design Prize also liked this concept. RIAB's "Bed 2.0" is among this year's finalists for the distinguished prize.
A Christmas tree made of corrugated cardboard
Now that it is Christmas, RIAB would like to point the way and promote a greener festive season in people's living rooms. A recyclable Christmas tree made of corrugated cardboard is intended to provide a modern alternative to the conventional real Christmas tree. In 2019 in Germany alone, almost 30 million Christmas trees were discarded once the festivities were over. Once the decorations have been removed, the RIAB tree, on the other hand, can folded up and used again next year.
The corrugated cardboard tree consists of seven parts, weighs 0.7 kg and is, when assembled, approx. 1 m high with a diameter of 70 centimetres. The Christmas tree toys can simply be hung in the large and small holes in the cardboard.
RIAB does not just use sustainable raw materials when producing its Christmas tree, it also makes sure that as little waste as possible is generated. As part of this policy the individual plug-together elements have been positioned as efficiently as possible on the pattern. Any waste cardboard left over is immediately recycled within the company.
A tree for new trees
When you purchase a RIAB Christmas tree, you are not only buying a sustainable product, a new tree is also planted for each Christmas tree sold. RIAB supports Eden Reforestation Projects, an organisation fighting deforestation and currently involved in projects in Madagascar, Nepal, Haiti, Indonesia, Mozambique and Kenya.
Helping people to help themselves
Reforestation of deforested areas is generally done in collaboration with people from the affected regions. They are trained and employed in replanting trees and providing sustainable support for the region. Thus, reforestation projects do not just bring with them ecological benefits but also socio-economic ones as they provide the often extremely poor people here with a regular income, enabling them to support their families. Since its foundation in 2004, the Eden Reforestation Project has already planted more than 250 million trees. The aim of the organisation is to plant at least 500 million trees every year from 2025 onwards. Thus, by buying a cardboard tree you are not only helping the environment and climate but also securing the income of people in the respective regions.
Image: RIAB