These are the nominees in the Sustainable Campaign category...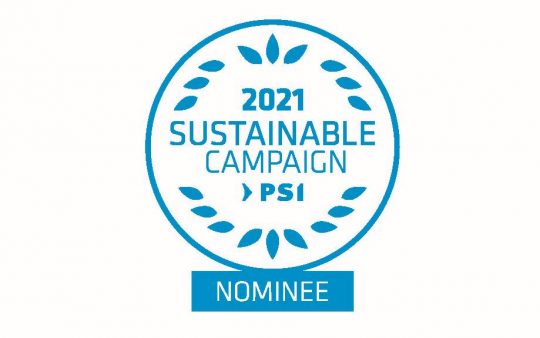 Promotional products also require a platform and a creative marketing strategy tailored to the industry. Because sustainable products need attention. A coherent and comprehensive campaign is essential for this. The nominees in the Sustainable Campaign category achieved this with marketing campaigns in which ecological promotional products are a component of several coordinated communication and advertising measures and thus convinced the jury. These are the nominees.
cyber-Wear Heidelberg GmbH
Campaign: #starkeschiene
Deutsche Bahn's #starkeschiene campaign draws attention to how closely rail transport and sustainability are linked. For the climate, for people, for the economy and for Europe, Deutsche Bahn wants to put transport on climate-friendly rails in the future. In cooperation with cyber-Wear Heidelberg GmbH, advertising material was created to match the campaign, with a focus on sustainability and "Made in Germany". All items have a simple use in everyday life and are sustainable alternatives to their "plastic" predecessors – in addition, they are a real eye-catcher and cool advertising space at the same time. Because all articles carry an ecological message that not only makes you smile, but also makes you think – because each design communicates an important message on behalf of the environment.
PROMIDEA SRL
Campaign: Tender LOOP campaign
PROMIDEA SRL's client wanted to find an alternative distribution channel for the sale of its products that would promote sustainable packaging and responsible product handling. For this, he entered into a partnership with LOOP, an organisation that only sells products with reusable packaging. The way the "LOOP" system works is that consumers order their purchases from the LOOP online shop, receive the goods packaged in reusable containers, and then place the empty containers in a LOOP bag, which is collected for the next delivery and then reused. PROMIDEA's task was to develop the production and delivery of the containers. The particular challenge was to design the containers so that they could carry full branding and whose colours could withstand the ultrasonic cleaning that LOOP uses. As the first of their kind, these containers have opened up a new way of working for the client and the end consumer, which is now spreading throughout Europe.