Innovator of the Year: These are the nominees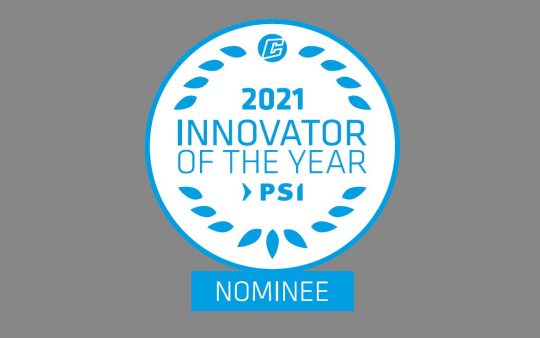 The focus of the "Innovator of the Year" is not only on the sustainable product itself, but also on its story. This new category of the PSI Sustainability Awards answers questions that more and more consumers are asking themselves: What is really inside the products, where are they produced and what are the working conditions like at the respective production sites? After the jury meeting on 4 November, these submissions are one round further in the race for the sixth PSI Sustainability Awards:
Alta Seta GmbH & Co KG
Project: Ocean Towel
Every year, more than 10 million tonnes of waste end up in the world's oceans. A large part of this is plastic, which not only harms the oceans, but also us humans. The solution: One Earth – One Ocean filters the rubbish out of the oceans with its Maritime Garbage Collection. This is then used to produce plastic granulate, which is processed into yarn in a complex procedure. From this yarn, Alta Seta in turn produces hamam and beach towels.
FARE – Guenther Fassbender GmbH
Project: Conversion of advertising material umbrella into Watersafe
Each new model of the Style series, the Colorline umbrellas and the new FARE®-Steel is equipped with the waterSAVE cover made of STANDARD 100 by OEKO-TEX® certified material and consists of recycled plastics. The dyeing process reduces energy consumption as well as the consumption of natural raw materials and ensures a massive reduction in the environmental impact of harmful substances.
Halfar System GmbH
Project: Upcycling corporate clothing
At the beginning of the year, all employees with customer contact at Deutsche Bahn received new corporate clothing. In the spirit of sustainability and Deutsche Bahn's approach to reusing discarded items, HALFAR, in cooperation with cyber-Wear, developed a concept for the reuse of the discarded corporate clothing. HALFAR used them to design handmade bags and spectacle cases that give the old clothing a new purpose.
JUNG since 1828 GmbH & Co. KG
Project: Gleisdrops
The Gleisgold honey produced on Deutsche Bahn land is processed by Jung into honey sweets. For this purpose, the honey is transported in a climate-neutral way directly to the production site, processed here and packaged in a biodegradable paper tin. Since the paper tin is also made of kraft paper with a paper label all around and a PLA inner coating, the entire product is 100% climate-neutral – starting with the sourcing of materials, through the production process, to the transport of the product.
Kalfany Süße Werbung GmbH & Co. KG
Project: Advent Calendar Zero Emission
Kalfany Süße Werbung GmbH & Co. KG ensures sustainable chocolate enjoyment during the Advent season. The EcoPlus chocolate Advent calendar consists of FSC®-certified cardboard, a stable inlay made of 100% organic raw materials and milk chocolate with Fairtrade cocoa. Once the Advent season is over, the calendar and inlay can be disposed of with the paper waste.
koziol ideas for friends GmbH
Project: Showtruck – Switching to plastic
Reusable instead of disposable and Made in Germany. This, and thermoplastics that are 100% recyclable, is what koziol is banking on. Because processing thermoplastics uses up to 90% less energy than producing glass, ceramics or aluminium, for example. Thanks to the resource-saving production process, plastic is currently the most ecologically and economically sensible material on the market. This makes koziol's cups particularly sustainable, because they can be used for many years and are a good alternative to disposable tableware.
Lediberg GmbH
Project: Appeel notebook
The Appeel collection follows an ecological philosophy that appreciates and respects the value of nature. Apple peels and cores form the raw materials of Appeel's patented technology. These residues are dried and ground into powder within 24 hours before oxidation can occur. The raw materials obtained from this transformation process then serve as a starting point for paper and eco-leather products.
Magna sweets GmbH
Project: Set of 3 chocolates
Magna Sweets wants to do something good with its chocolate, piece by piece. The set of 3 consists of three sustainable chocolates in a sustainable cardboard box. These include "Die gute Schokolade", "Tony's Chocolonley" and "Rettergut mixschokolade". Each of them does something good. For example, for every five bars of "Die gute Schokolade" purchased, a tree is planted. The products are intended to raise awareness, avoid food waste under the hashtag #stopfoodwaste and support a fair approach to all food.
Mahlwerck Porcelain GmbH
Project: Ford cups
The original Coffee2Go cup from Mahlwerck Porzellan has been on the market since 2009. Now the sustainable alternative to paper cups is also available for the catering market. Reusable almost indefinitely, Mahlwerck represents the taste-safe alternative to any disposable cup. In this way, this Coffee2Go cup makes a safe contribution to conserving resources and reducing environmental pollution.
MASTER ITALIA S.p.A
Project: Conversion of all caps to RPET
Master Italia is committed to producing rPET caps and beanies. rPET is recycled polyester. It is made from polymers obtained by melting down plastic bottles and re-spinning them into polyester fibres, which can then be recycled again to make plastic bottles or yarns. Production requires 59% less energy and 32% fewer emissions.
mbw Vertriebsgesellschaft mbH
Project: Schaffner Bear, RecycelBear
The RecycelBears are made entirely from rPET material. Used PET bottles are used for this. The hangtags are also made from recycled paper. The teddy bear's uniform is "upcycled" from decades of Deutsche Bahn company clothing. Patterns" are cut from the discarded, existing collection pieces, which are then assembled into a mini-uniform for the RecycelBear in a sewing factory in Europe.
MYRIX GmbH
Project: Upcycling notebook
MYRIX notebooks are a high-quality promotional item. The notebook is particularly creative with its cover made from leather production scraps. This gives each book a unique design and no two are alike. In this way, leather scraps that would otherwise end up in the rubbish find a sustainable use.
Prodir – Pagani Pens SA
QS40 True Biotic biros
The QS40 True Biotic biros is the first writing instrument where all external components (barrel, clip and push button) are made of plastic-free biopolymers. Biopolymers (PHAs) are naturally synthesised by microorganisms through the fermentation of renewable resources such as sugars or lipids. PHAs are non-toxic, non-harmful, non-fossil, renewable and biocompatible.
Schwan-STABILO Promotion Products GmbH & Co. KG
Project: Jokey Office Package
Eco Concept Verpackung and STABILO have joined forces to develop an office box with sustainable writing instruments. The GREENgraph pencil is FSC®-certified, meaning that 100 percent of the wood used comes from strictly controlled cultivation. The STABILO GREEN BOSS is made from 83% recycled plastic, thus conserving natural resources, and the STABILO GREENpoint felt-tip pen. 87% of the GREENpoint is recycled.
Uhmm ApS
Project: Senec Box
The Uhmm Box is a modern storage box and the result of a unique folding technique. Inspired by Vietnamese culture, where food is eaten from palm leaves, the Uhmm Box can be unfolded and used as a plate. This makes it easy to enjoy food anywhere and the box takes up very little space.
uma writing utensils Ullmann GmbH
Project: RPET pen
In this project, uma transforms the plastic bottle into a biro. For the production of the PET biros, rPET is used. The granulate required for this is obtained from recycled PET bottles. A 0.5 litre PET bottle yields exactly the material needed to make a biro casing.
Vonmählen GmbH
Project: Leather UpCycling Aura
Aura, the Wireless Charging Pad, is Qi certified and fits seamlessly into the home. Combined with leather production scraps, from production residues that would normally be disposed of, Aura is upcycled even further, making it one of the few tech products to focus on sustainability.
XINDAO
Project: Backpack made from Aware material
The Xindao backpack is made of sustainable Aware material. Xindao has used it to develop and produce a practical and doubly secure backpack for Deutsche Bahn's employee welcome package. With the anti-theft feature and the hidden pockets including RFID protection, the product is not only stylish but also secure.