The sustainable clothes hanger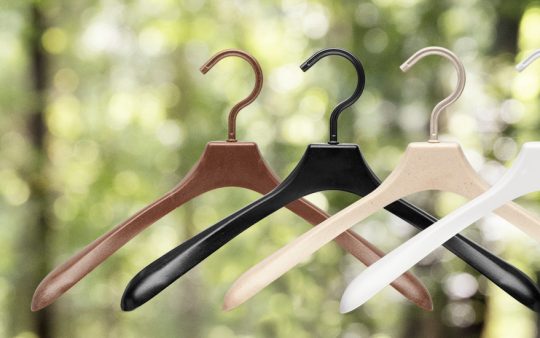 In the textile industry, many products currently revolve around the topic of sustainability. More and more manufacturers are producing fashion, sports articles, promotional textiles and workwear under fair and environmentally friendly aspects. Fabrics made from sustainable raw materials, environmentally friendly production processes and logistics with a neutral CO2 footprint play equal roles in the manufacturing process. The result is a textile that is sustainably produced in all aspects.
Green products in the right context
Clothing and accessories that have been produced in a holistically fair and green way need the right setting for a coherent presentation in retail or on the way to the end customer. The individually packed T-shirt in a PVC bag is just as much a no-go as the presentation of sustainable collections on disposable hangers.
This is exactly where Hooks Creative from the Netherlands comes in and offers biodegradable hangers for product presentation. The new hangers are supposed to be the sustainable alternative to the billions of disposable clothes hangers that end up in the rubbish every year only briefly used. Hooks Creative is striving for a real change in retail presentation.
Vegetables and grass as raw material
The development of the hanger collection took around two years. They contain no oil and no iron – both materials that are often used for the hooks and hangers of conventional products. The sustainable hangers are made entirely from one material and consist of renewable and reusable raw materials such as potato starch, corn, beetroot or grass species.
Local production is also important: "We can now put an end to the gigantic CO2 emissions caused by sea freight from Asia," says Arjan Kaan, CEO of Hooks Creative. "Since the hangers can be produced anywhere in the world, we simply eliminate pollution from transport emissions. Our hangers are Co2 neutral in the production process, transport and disposal."
Fully compostable
"All parts of our clothes hanger have a sustainable origin, so it can be fully composted or recycled at the end of its life," Kaan continues. "With the introduction of the compostable clothes hanger, we are ushering in a whole new era. Finally, we can help make the fashion industry constructively sustainable."
For textile presentation, the hangers are an important building block in the 360° communication of brands and manufacturers. Because with increasing consumer interest in sustainable products, holistic product presentation across all contact points is becoming more and more important. Every detail is perceived by consumers and flows into their judgement of a company, its products and the buying process. If, in addition to the products, the product story is also right, customers go for it with a good feeling and a higher price is also more likely to be accepted.
Image: Hooks Creative