Green advertising technology is the future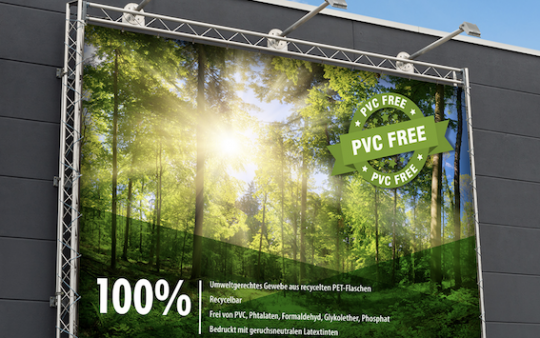 To date, printing materials and technology have not really been seen as being particularly environment-friendly or sustainable. However, things are now beginning to change in the industry.
Things are shifting in the field of advertising technology as demand within the industry increases for environment-friendly products that can be recycled. Sustainability is also playing an ever-greater role for buyers. Both companies and the trade are evolving and becoming ever more committed to environmental accountability. This new ecological responsibility is evident in all areas, including visual communication. It is no longer possible to promote a green product credibly by merely slapping a slogan on a PVC transparency and sticking it to a shop window.
Solvent-free processing
The company mediafarm from Borgolzhausen has recognised the sign of the times and is increasingly utilising environment-friendly products for displays and at trade fairs. The company has adopted the water-based HP latex printing process. This solvent-free technology not only offers high quality printing and durability, it is also particularly suitable for use indoors. The inks contain no dangerous pollutants and have been certified by UL ECOLOGO ® and UL GREENGUARD GOLD.
Sustainable banners, foils and films
For outdoor banners, a fabric made of recycled PET bottles and a film containing no PVCs or solvents is used. Both are GREENGUARD GOLD certified. Depending on its intended usage, the media can be self-adhesive, using a water-based, semi-permanent bond, providing the company with sustainable results.
Renewable raw materials are also being used ever more frequently. Banners and posters made of canvas, paper, fabric or cardboard are held in place on frames made of solid, untreated lime. As well as looking good, these frames are durable and 100% recyclable. The developers at mediafarm have re-invented the classic roll-up with one of their ecological banner systems. Being made of recycled fabric and natural FSC wood, it is compact, easy to erect and dismantle, meaning that banners can be replaced quickly. POS displays and 3D-applications for stores and shopwindows are made of display card. The recyclable FSC®-certified panels can be cut up and shaped to create virtually anything. The card can then be recycled as wastepaper once it is no longer required.
Saving resources
Sustainable applications have not yet managed to establish themselves extensively in the field of conventional advertising technology. Standard materials are still frequently used, with a lot of material being wasted unfortunately, meaning valuable raw materials are still being lost. mediafarm would like to change this.
CEO Margitta Varwig says, "We thoroughly believe in what we do and like to convince our customers of the added value presented by green advertising technology." She is pleased about the fact that the range of sustainable materials on offer is steadily increasing. "More and more manufacturers are beginning to rethink and produce environment-friendly products and materials in top quality. In turn, this means that we can develop solutions for advertising technology that are both high-quality and sustainable. That is what is important to us: green advertising technology stands for sustainable quality – and the future!"
Image: mediafarm