Main Catalogue 2021 Supports the Bergwald Project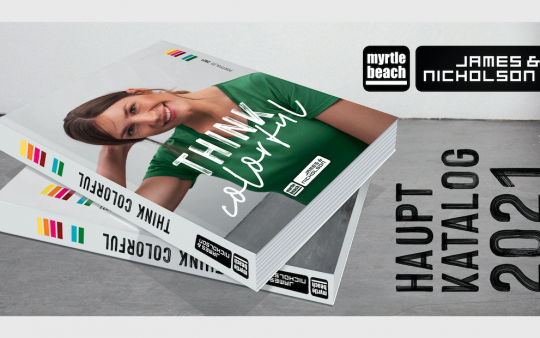 The new main catalogue of both Daiber brands JAMES & NICHOLSON and "myrtle beach" has been available since the beginning of the year. The CO2 emissions stemming from the production and shipment of the catalogue have been fully offset by the company's support of the forest preservation project organized by the German association Bergwaldprojekt e.V.
Among other things, the catalogue features the new 2021 collection. The 40 new articles of clothing focus in part on sustainable materials, such as organic cotton or recycled polyester, and crossover styles that cut a good figure at work and in private. A highlight of the collection is the first pair of jeans by JAMES & NICHOLSON in the brand's 20-year history.
Thanks to the partnership with ClimatePartner – which makes climate neutrality and regional engagement possible by sponsoring regionally and internationally recognized climate protection projects – 100% of the CO2 emissions produced during the production and shipment of the main catalogue were also offset this year. "As a production company, we have a responsibility for the environment," says Managing Director Kai Gminder. "We are conscious of this, which is why we are promoting sustainable and ecologically meaningful projects together with ClimatePartner."
This also includes the recent support of the association Bergwaldprojekt e.V. from the Oberallgäu region in Southern Bavaria. The association is made up of volunteers and specialists whose aim is to look after and preserve the native forests. Regional engagement protects natural habitats, which is why it is important for adapting to climate change. More information is available under: www.daiber.de • www.daiber.de/de/company/sustainability/products • www.bergwaldprojekt.de