Honoured with two awards at German Design Awards 2021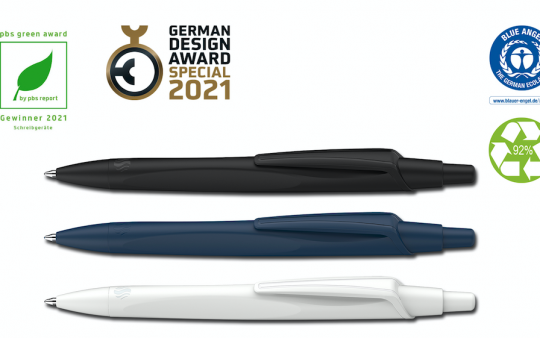 The jury of the renowned German Design Awards honoured the product and eco-design of the company Schneider Schreibgeräte twice with their annual award. Both pen models Take 4 and Reco were awarded a prize for 2021. The internationally renowned design award is given by the council for best design once a year. The jury comprises design experts from business and the scientific community as well as the design industry. All jury members are well-known personalities in their field.
The company explains: "The desire to have a sustainable 4-color pen on the market was becoming increasingly stronger. For this reason, Schneider worked on coming up with the perfect solution: a model that will win users over with high writing quality, sustainability and an attractive design. The new Take 4 pen from Schneider has managed to fulfil all the requirements." Take 4 not only proves itself as an everyday organizational helper, it also impresses people with its comfortably soft and wonderfully smooth writing feeling thanks to its Viscoglide® technology. Additionally, the Take 4 barrel is produced in an environmentally-friendly and resource-saving manner and 92% of the barrel is made from recycled post-consumer plastic. There is a small imprint at the end of the pen indicating it is made from recycling material. The four-coloured pen is also very easy to refill with the Take 4 refill. This pen reduces waste and will always ensure users have a fun writing experience. (more information under Take 4)
The new Schneider model Reco has already managed to be the only pen to receive the Blue angel certification. Schneider is particularly proud of this achievement, because the Blue Angel rules are especially challenging for ballpoint pens to meet. 92% of the barrel is made out of recycling material. To fulfil the high Blue Angel requirements, Schneider developed a new paste. The modern and dynamic design turns this pen into a real highlight with its matt shimmering surface. Reco is manufactured at facilities in Southern Germany using an environmentally-friendly and resource-saving method that follows the Blue Angels criteria. The stable, fibre-reinforced and break-proof clip round off its dynamic look and is designed for long-term use. (more information under Reco).
In addition to the German Design Award, Reco previously had won the PSI Sustainability Award and now is the winner of the "Green Award." Last year, the "1st PBS Report Green Award" was given by the Zarbock publishing house with the PBS Report, a trade journal for the paper, office supplies and writing instruments industry. Sustainability, environmental protection and ecological action have become key issues in this industry. With the first PBS Report Green Award, Zarbock publishing house wants to make "green offices" a subject of discussion and to offer sustainable product solutions a wide platform. It recognizes sustainable products in the paper, office supplies and writing instrument industry. Another goal of the publisher with the "1st PBS Report Green Award" is to set up a platform with sustainable products, which is available to both commerce and consumers at the same time.  Schneider is delighted about receiving this additional prize. www.schneiderpen.com