From fibre to apron with blockchain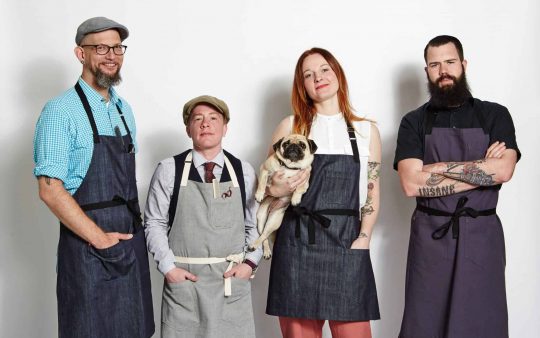 KAYA&KATO has been producing workwear since 2015, combining chic design with quality and consistent sustainability. Currently, the label offers chef jackets, chef shirts, aprons, T-shirts, service clothing and complementary textile products for the catering, hotel, food and retail industries. Since its foundation, KAYA&KATO has offered its customers a transparent insight into the complex textile supply chain. In order to manufacture high-quality products and guarantee fair working conditions, the company knows its suppliers personally.
Transparency in the DNA of the company
The central goal of KAYA&KATO's corporate strategy is to change the market for workwear in a sustainable way. In terms of fair and transparent supply chains, a blockchain solution from IBM will in future identify the origin and processing of the fabrics used in every step of production and distribution. The blockchain of the technology partner enables the development of a virtually forgery-proof protocol for the traceability of the materials used.
How the blockchain works
The data of a transaction, which can be viewed by all participants, is recorded in blocks and stored in the form of an unchangeable, chronological chain. If an asset changes ownership, this is also automatically visible in the blockchain. In order to map this, KAYA&KATO and IBM are developing a so-called "MVP – Minimum Viable Product" in the first step, which covers the basic functionalities of the planned solution. The textile supplier's supply chain will then build on this. Another objective of the blockchain project is to work out the developmental benefits of the technology and to develop the basis for a possible industry-wide solution.
Following the methods that IBM has developed for blockchain solutions, one of the goals is to redefine the most important business relationships in an ecosystem based on trust, transparency and a more intensive form of cooperation with partners, customers and suppliers. This will enable blockchain solutions to provide end-to-end, secure and controlled data transparency, creating new value that can also serve as documentation for industry regulators.
"We are pleased that this exciting and innovative project with KAYA&KATO is being intensively supported by politicians," says Christian Schultze-Wolters, Business Unit Manager Blockchain Solutions (DACH) at IBM. "We want to set an example, especially in this industry, and offer other companies from the textile sector the opportunity to join us in the course of further development and help shape the solution."
Federal Ministry BMZ supports the project
The BMZ, the German Federal Ministry for Economic Cooperation and Development, supports the textile label's collaboration with the technology provider. This is because transparency in global supply chains is also on the agenda and a priority topic at the ministry. Companies and consumers should be guaranteed complete transparency and traceability from the fibre to the finished garment.
Dr. Stefan Rennicke, co-founder and managing director of KAYA&KATO explains his company's commitment as follows: "The sensible combination of sustainability and digitalisation is forward-looking for us. The project combines both aspects in an excellent way and promotes supply chain transparency. This is the decisive reason for KAYA&KATO to initiate the development of a blockchain."
Image: KAYA&KATO