This is the major trend in workwear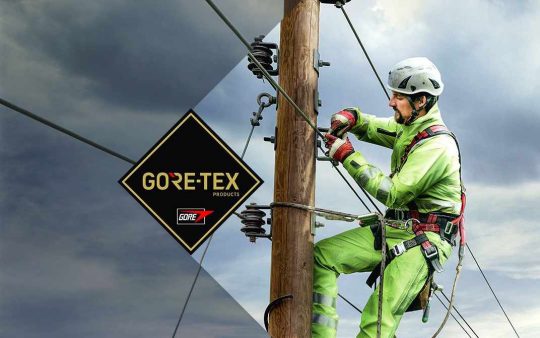 What are the megatrends that will significantly influence the workwear and protective clothing industry by 2025? W. L. Gore & Associates has identified them in cooperation with the Zukunftsinstitut. In addition to an increase in safety aspects, higher demands for quality and comfort as well as an increasing globalisation of the market, one megatrend determines all areas: Sustainability. Sustainable criteria will not only be increasingly taken into account in public tenders, but also by the companies themselves. Here, Gore expects suppliers and users to take more and more measures to reduce their ecological footprint.
Gore: Climate neutral by 2050
And how is Gore itself implementing sustainability? In February, Gore announced an update to its "Responsibility Framework 2020". According to this, Gore wants to achieve climate neutrality by 2050, and by 2030 the product-related CO2 emissions of Gore-Tex products are to be reduced by 35 percent. In order to make climate neutrality measurable in the first place, the Gore Fabrics Division has also expanded its commitment to measuring and sharing data on the ecological footprint of its materials in 2020. In this way, Gore wants to support its brand customers in making smarter and more informed material decisions. Because one thing is clear: the pressure on textile manufacturers is growing more and more, because clothing brands can only achieve their climate goals if their suppliers work on the issue as well.
New high-tech material alternatives
In the wake of the sustainability debate, the cards are being reshuffled in the clothing industry. Market leaders such as Gore are facing a growing number of textile manufacturers who are actively looking for sustainable fabric alternatives that do not have to take existing production processes into account. Laminate manufacturer Sympatex is one of the sustainability pioneers in the textile industry and one of Gore's biggest competitors. For years, Sympatex has used the issue of sustainability as its sharpest strategic weapon in the battle against its competitor. Entirely new players are also entering the market, such as BenQ Materials from Taiwan. Their Xpore membrane was first launched in the winter of 2020/21 and consists solely of carbon and hydrogen. It is free of harmful chemicals such as PTFE and PFC and does not require any solvents in the production process. There are now even sustainable alternatives for welding the seams: The company Trans-Textil has just introduced a seam-sealing tape that does not use organic solvents and thus reduces the pollutant load in production and processing in the garment factories.
Return to old natural fibres
In the search for alternatives to high-tech fibres, however, textile engineers are also discovering old familiar fibres, such as hemp. Sustainability pioneer Patagonia, for example, has just launched a pure workwear collection made of industrial hemp. The hemp fibre is considered particularly hard-wearing and durable. In addition, the frugal and robust industrial hemp plant grows very quickly – even in cooler climates – and requires little water, no fertilisers or pesticides. But Patagonia wants even more: the long taproot of the hemp plant draws nutrients from deep in the soil and makes depleted soils healthy again. That is why the US company wants to help build a new US hemp industry. The Italian Oberalp Group, to which the outdoor brand Salewa belongs, has also been investing in rebuilding the Italian hemp tradition since 2016.
Photo: W. L. Gore & Associates