Mouldable paper instead of disposable plastic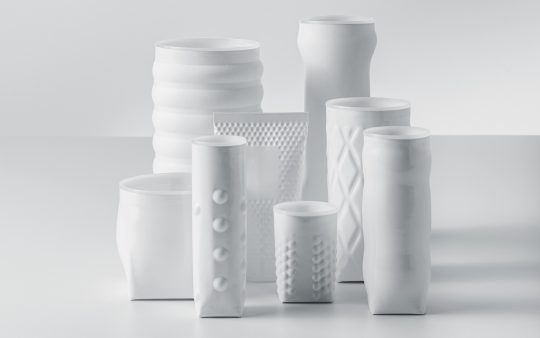 Packaging made of stretchable paper could be a sustainable alternative to plastic in the long term.
Plastics have an increasingly bad reputation. According to the Plastics Atlas of the Heinrich Böll Foundation and the Friends of the Earth Germany (BUND), more and more consumers are avoiding the material. Three quarters of supermarket customers, for example, make sure when shopping to buy products with as little packaging as possible. Awareness of the need to avoid plastics is increasing.
This is also reflected in the new Packaging Ordinance, which comes into force in Germany in July 2021. Disposable products such as straws, cotton buds, plastic cutlery, disposable cups or fast food boxes will be banned in future. And from January 2022, plastic bags will be banned. Bags with walls between 15 and 50 micrometres thick will no longer be allowed to circulate.
Paper in demand as an alternative
Paper is increasingly being used as a substitute for plastic packaging. Herb pots now have paper sleeves, toilet paper is wrapped in a large sheet of kraft paper and the weekly delivery of advertising brochures has a paper sleeve instead of a plastic bag. Things are changing in many places and paper is a welcome alternative – especially for anything that can be folded, wrapped or straightened.
Stretchable paper is freely formable
Until now, the possible uses of paper have been limited by its material properties. Curved, wavy and bulbous shapes were difficult to wrap with it.
The paper-based packaging material from the Swedish company FreeForm Packaging AB is a sustainable alternative to plastics. The supplier markets a mouldable paper solution based on stretchable and printable laminates that can be twisted and embossed. The laminate, called "Standard Paper Out", consists of two layers of FibreForm®, one of which has a thin polyethylene layer as a barrier. This protects the contents and ensures the durability of the material, which is still about 85% paper. With its mouldability, the natural, tactile paper exterior and the laminate inside, the material offers all the possibilities for designing any packaging shape – almost plastic-free.
The Free Form Pack high barrier has a thin EVOH barrier layer, which gives the packaging additional protection against oxygen transfer from the outside and allows food to be packaged in a modified atmosphere. This keeps the contents shelf-stable while allowing them to take on any shape so that products catch the eye directly on the shelf.
"This is an important step for us and a long-awaited solution," says Danevert Åsbrink, CEO of FreeForm Packaging AB, as the need for products in paper-based packaging has increased significantly in recent years.
Material and machine in a complete package
With the purchase of the material, the manufacturer also offers to buy the machines for producing the paper. The packaging material can thus be produced in one step and adapted to the products. The machine technology comes from Curti in Italy. Curti and Free Form Packaging both belong to BillerudKorsnäs. The group has long been researching paper as a solution for packaging and wants to see conventional solutions replaced by more sustainable ones.