Premiere: 48-hour power meeting for the promotional products industry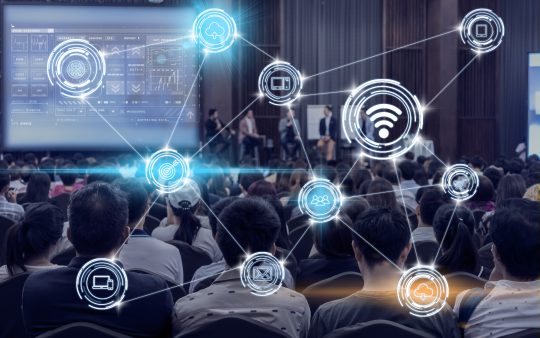 The international promotional products industry will meet in May for a 48-hour digital gathering. From 19 to 21 May 2021, PSI Digital will be the meeting place for renowned promotional products suppliers and industry experts. The virtual trade show format offers real added value for promotional products retailers, textiles, finishers and marketers. Among other things, the focus is on product innovations, industry and sustainability topics and further training offers with tips for daily business to support promotional products retailers.
"Our biggest concern with this event is to finally bring the industry together again," says Petra Lassahn, Director of PSI. "Because there is a great need to address the most pressing issues now." PSI Digital is made up of keynotes, panel discussions, practical forums and product presentations.
Focus on sustainability and legal issues
For years, one focus of PSI has been on sustainability topics. This also applies to the digital event when it comes to promotional products, textiles, finishing and printing. For example, a panel discussion will shed light on why it is worth taking a closer look at Cradle to Cradle and why products made in a circular economy make more and more sense. A webinar deals with the state textile seal "Green Button" and its advantages for promotional products retailers as well as the unbureaucratic path to licensing. Using Sailmate as an example, the topic of "upcycling" also comes into focus. Specifically, this is about discarded sailcloth, from which new promotional items and individual products ranging from drink holders to beanbags are made. Sailmate founder Anna-Lena Bruchmann will explain in a lecture what else can be made from the sails and how to do business with an upcycled model.
The focus for current legal topics will revolve around, among other things, the new Market Surveillance Ordinance coming into force in May or opportunities and challenges in the topic of product responsibility and product liability. Keywords here include market measures for RAPEX risk assessment, the specifics of chemicals law, including recalls due to physical or chemical defects and everything worth knowing about substances of concern. Transparency in the supply chain is also on the lecture programme.
Best practices from the industry for the industry
A third focus will be on practical topics related to the daily doings of a promotional products retailer. For example, advertising effectiveness on websites, the correct use of various communication channels with the right information and explanatory "how to" formats, for example on the subject of storytelling on social media.
Over 150 exhibitors from all over Europe show their new products
Those who come to PSI are looking for one thing above all: a wide range of products for their customers. These can now also be found digitally. Over 150 exhibitors will ensure this during the entire event series. Among them are elasto form, koziol, the companies of the JCK Group, i.e. Gustav Daiber, Fare, Halfar, Mbw and SND. Kalfany Süße Werbung, Paul Stricker, Master Italia, Troika, Mahlwerck, Result Clothing, Lanyard.Pro and Softibag have also already signed up.
uma Schreibgeräte supports PSI Digital as Presenting Sponsor. And Schwan-STABILO is also participating as a Platinum Sponsor. Both will present their latest product innovations in the programme. "We are particularly pleased to welcome representatives from all over Europe to the digital trade show as well," says Petra Lassahn. Besides Germany, the participating exhibitors come from Austria, Portugal, Poland, Spain, Italy, France, the Netherlands, Sweden and Great Britain, among others.
Free participation allows a "sneak peek" into product diversity
In addition to PSI members, interested non-members can also participate in PSI Digital free of charge with the help of a voucher. During the 48-hour digital trade show, they will then have the opportunity for the first time to try out all PSI services free of charge in addition to the programme, including the PSI Product Finder with over 130,000 promotional products, the PSI Distributor Finder and the PSI Supplier Finder. "We want to give everyone in the industry the opportunity to get a taste of our products and see their added value for themselves," says Lassahn. All PSI services will again be available exclusively to PSI members after the digital trade show.
Tickets to PSI Digital are available free of charge at www.psi-messe.com.
Seven Digital Fridays extend the event
Every second Friday of the month, a total of seven Digital Fridays will continue PSI Digital from June under different thematic focuses, including sustainability, finishing technologies or textiles. "This is not only how we bridge the time until the trade show in January," says Lassahn. "We also plan to continue this format in the long term in 2022, thus offering the industry the opportunity for sourcing, networking and further education all year round."
The next trade show will be held in Düsseldorf again
Preparations for the next attendance event are already underway. The team around Petra Lassahn is already in the middle of preparations for the next PSI, which will take place in Düsseldorf from 11 to 13 January 2022.