These sustainable opinions and trends you should know about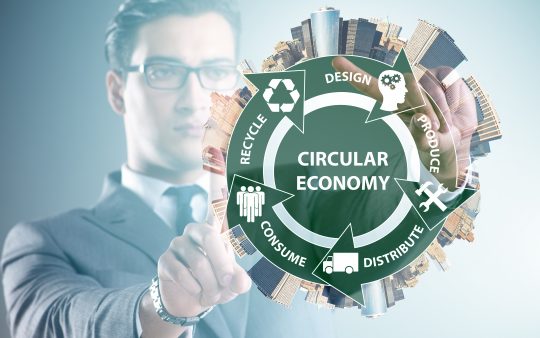 Whether ecological, economic or social: all three pillars of corporate social responsibility (CSR) are now firmly anchored in the promotional products industry. The keynotes, webinars and panel discussions at PSI Digital, which will focus on the topic from 19 to 21 May 2021, will show which new trends and best practices exist in terms of sustainability, but also which discussions are currently being held.
Why is a circular economy worthwhile in the promotional products industry?
Behind Cradle to Cradle is the goal of the circular economy: that is, it is about the development of products that can either be completely recycled into new, equivalent articles after their use phase, or can be biodegraded without pollutants. In this way, they become new, important valuable materials for the soil and the basis for new raw materials, but not waste. Moderated by Stefan Roller-Aßfalg, founder of the AkaTex Academy for Textile Finishing, Friederike Priebe, Teamlead Textile at EPEA GmbH, Erich Wissing, Sales Representative at CHT Ecoprint, and Dirk Glaser, Manager of Sales at Kroschewski Industrie Technik GmbH (KIT), will discuss on 20 May from 10.30 a.m. why it is worthwhile to deal with Cradle to Cradle and why products manufactured in a circular economy make more and more sense.
How to get the "Green Button" licence
The "Green Button" is the first government seal for sustainably produced textiles. It was launched in September 2019 by the German Federal Ministry for Economic Cooperation and Development (BMZ). In addition to high social and ecological requirements for the product, the licensing process for the "Green Button" also checks whether the company meets its human rights and ecological due diligence obligations in the textile supply chain. Textile and clothing engineer Silke Langer and Jana Mandel, as an expert in the field of corporate sustainability, are advisors at the "Green Button" office. In a webinar on 20 May from 1.30 p.m., they will explain how textile supply chains can be made sustainable, how companies can prepare for the upcoming Due Diligence Act and how companies can get licensed efficiently and without red tape. Manufacturers and retailers will learn what support they can take advantage of and what benefits arise from certifying their products with the Green Button.
How sustainability enriches communication during the pandemic
Sustainability is not a fad and offers many opportunities. Especially in times of Corona, sustainable projects show true miracle effects in terms of communication to and with the customer. How to fly the green flag in times of Corona and support the PSI Sustainability Awards in the process will be explained by Steven Baumgärtner, Global Sales Director Sales & Marketing Cybergroup International, in his key note presentation on 21 May from 9.30 am.
Best Practice: How advertisers live sustainability
Responsibility starts with the little things: Under this motto, the family-owned company Schwan-STABILO is committed to responsible action in all areas of the company and has thus become a pioneer in sustainability in the promotional products industry. The STABILO range of promotional products makes it possible to find the right promotional pen for every company and every campaign. Together with its customers, STABILO is working to ensure that more and more companies choose sustainable promotional products. Harry Saffer, Managing Director of STABILO Promotion Products, will explain what these products look like and what possibilities they offer in a live session on 20 May from 1 pm and on 21 May from 12 pm.
Result Clothing will also present its "Genuine Recycled" collection at the live event. With this collection, the supplier of high-quality outdoor clothing demonstrates its commitment to sustainable clothing. It includes softshell jackets, fleece, winter hats and high-visibility clothing made from recycled PET bottles and will be presented on 20 May from 11.30 am.
Free for all participants
In addition to PSI members, interested non-members can also attend PSI Digital free of charge with a voucher, among other things. During the 48-hour digital trade show, they will then have the opportunity for the first time to try out all PSI services free of charge in addition to the programme, including the PSI Product Finder with over 130,000 promotional products, the PSI Distributor Finder and the PSI Supplier Finder.
*PSI members can log in directly with their PSI number and password on 19 May from 12 noon.