FARE Starts the #waterSAVEchallenge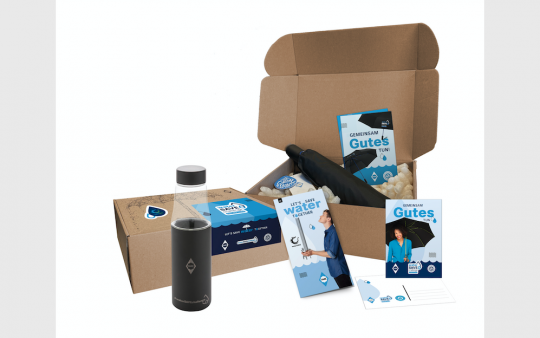 Water is a precious commodity, which is why FARE, the specialist for high-quality promotional umbrellas, developed the waterSAVE® canopy material, which saves approx. 6 litres of water when each canopy is produced. It was honoured with the "Innovator of the Year 2021" award at the PSI Sustainability Awards. But the company is not stopping there with its efforts, because 2.2 billion people lack the vital resource water around the world and around 579 million do not even have a basic supply of drinking water. With the #waterSAVEchallenge, FARE is involved with its distributors in the organisation "Viva con Agua", which works to ensure more people in the world have access to clean drinking water.
With each waterSAVE® umbrella sold, FARE will donate 6 cents per litre saved to "Viva con Agua". Distributors do not have to do anything other than convince their customers of the benefits of the product. In concrete terms, this means if a distributor sells its customers 96 umbrellas with the waterSAVE® canopy material, 576 litres of water are saved when these umbrellas are produced and a total of 34.56 euros is donated. (240 umbrellas are the equivalent to 1,440 litres saved and a donation of 86.40 euros; for 1200 umbrellas it is 7,200 litres of water saved and a donation of 432 euros.) Viva con Agua invests donations in specific projects, such as a water filter for a family, a hygiene workshop at a school or offering vocational training for water well technicians. Customers from the industry receive a certificate for their donation contributions to the project. Any remaining sums are accumulated throughout the year and donated to Viva con Agua at the end of the year.
From the very beginning, participating distributors are offered support in the form of an attractive packet of measures in haptic and digital form. This way, they can keep the channels of communication open throughout the entire year with little effort and can make their customers an attractive offer. Although the #waterSAVEchallenge just started at the beginning of May, around 50 distributors have already registered and are now working together with FARE on saving water together. Any distributors interested in participating can obtain more information at www.watersavechallenge.de and can contact the FARE representatives indicated there. www.fare.de
Photo: The #waterSAVEchallenge Distributor Box.