A quarter of a century in the bag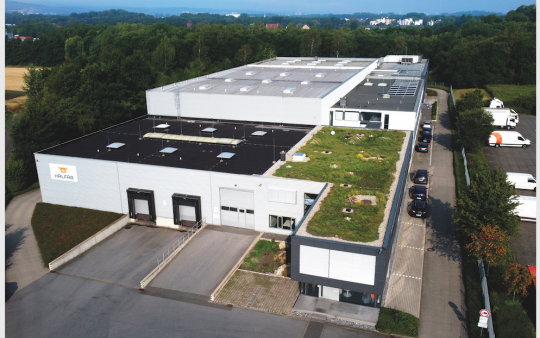 For a quarter of a century now, the Bielefeld-based company has been developing, producing, finishing and marketing bags and rucksacks, customer bonuses and merchandising items as successful promotional products or tailor-made problem solvers – always pursued with great passion. Thus, HALFAR® has evolved into a brand that stands for exceptional quality, creativity and comprehensive customer service.
The birthday child is indeed very familiar with gifts and packaging for the "silver anniversary". Because Halfar is an expert for promotional bags, which are utilised by brands and businesses as bonuses and promotional messengers. What's more, one of its business units focuses on storage and transport solutions to meet technical and special requirements, for example bags for emergency services.
Early beginnings with rescue bags
These emergency bags are the actual starting point of the Bielefeld-based company. Founder Armin Halfar, who was working as a paramedic, went in search of a better, practical solution – and without further ado created one using his sewing machine. Around 10 years and many other bag ideas later, he leads the young aspiring company together with his partner Kathrin Stühmeyer-Halfar as a GmbH. Halfar System Rucksacks and Bags GmbH was registered precisely on 29th July 1996.
Growth with sound judgement
The Bielefeld-based company has been growing steadily since then. Around 120 employees are employed at the headquarters in Bielefeld today. With design, sewing, printing, purchasing, marketing, sales and storage specialists, a complete team is on board to develop products and turn customer wishes into reality. Despite the strong growth, Halfar remains true to its high standards when it comes to quality, functionality and sound manufacturing conditions at all times. Whilst sustainability has become a trend topic for many companies nowadays, it has been part of Halfar's DNA right from the beginning.
Committed to sustainability
With the increasing use of materials like organic cotton, PVC-free synthetic fibres or recycled materials made of PET bottles or cotton remnants, Halfar is focusing more and more on sustainability in its products. Bags produced according to GOTS, STANDARD 100 by OEKO-TEX® and with Fairtrade certification are also standard in the portfolio today.
Halfar understands sustainability as a holistic concept. This is revealed not only by the products themselves but can be witnessed throughout the company. Whether it's the completely CO2-free operation of the company premises, the 'job bike' for employees, the cooperation with the prosigno® printing works (an inclusive social enterprise) under a single roof, the recognition as a family-friendly business, the blooming meadow for insects and bees – the company takes responsibility for environmental and social issues. Distinctions such as the industry award 'Sustainable Company of the Year' in 2021 honour this outstanding commitment. Thus, on its 25th birthday, the Bielefeld-based GmbH certainly has great prospects for the future in the bag. www.halfar.com
Photo: The Halfar company premises – completely CO2-neutral.