Particularly ergonomic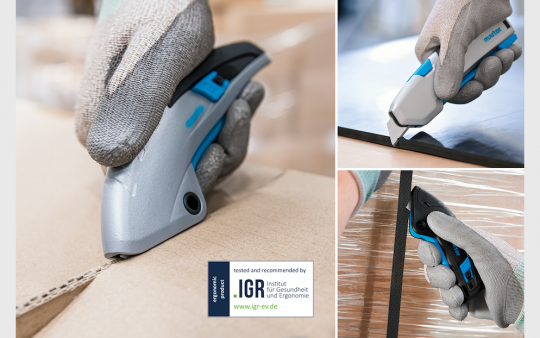 The company MARTOR, based in Solingen, is known for its safe and efficient cutting tools. MARTOR safety knives can now also officially be described as particularly "ergonomic". The renowned Institut für Gesundheit und Ergonomie (IGR e.V.), headquartered in Nuremberg, has certified all three knives submitted for testing. Thus, MARTOR is the first knife manufacturer allowed to bear the highly-recognised IGR seal of quality – as announced by the company.
In 1976, MARTOR brought the world's first GS tested safety knife onto the market, the PROFI. The Solingen-based company with a long tradition has now also been confirmed as the forerunner in terms of ergonomics. According to the IGR, an item must be optimally adapted to the "physical characteristics of the test person" in order to be certified as an "ergonomic product". For a safety knife this means: it should lie very comfortably in the hand and be pleasant to use, even over a longer period.
This applied without exception to the tested MARTOR squeeze-grip safety knives SECUPRO 625, SECUPRO MARTEGO and SECUPRO MERAK. The term "squeeze-grip" refers to the fact that these safety knives are equipped with an easy to operate lever on the underside, which allows the blade to be released simply and conveniently.
All three safety knives are primarily used in the areas of logistics and manufacturing. They can be used to cut cardboard boxes of different thicknesses, film and strapping, as well as rolled goods, floor coverings, etc. The clever feature: when the blade leaves the material being cut, it retracts back into the handle at lighting speed – even when the user misses this moment and continues to press the lever. This reliably protects the user from cutting injuries. The testers at the IGR not only analysed the handling and hand positioning while cutting, but also the blade changing process. The outcome: here, too, MARTOR has placed great emphasis on user comfort and ergonomic usability. www.martor.de