From the forest to the living room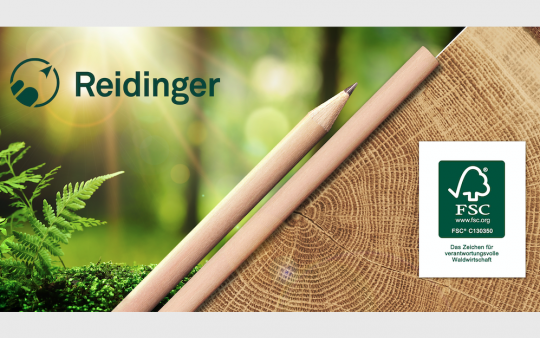 Pencil specialist Reidinger has a long tradition and a high level of conviction for its sustainable writing instruments that are made using wood. The company's high level of commitment has now been recognised with its FSC certification. This coveted seal of quality is official proof that the company, which operates throughout Europe, has a product chain for pencils and coloured pencils that functions seamlessly.
Active environmental protection at every stage of production
Reidinger pencils and coloured pencils are made using FSC-certified lime wood, with short supply chains from European production. Thanks to an internal quality process, the FSC-certified materials can be identified at every stage – from the forest to the end customer. In every detail, the team pays attention to ensuring fair conditions for the environment and for all those involved in the production process.
Sustainability in every detail
The pencil specialist is working continually on its sustainability concept. At its Hammelburg site, for example, biogas, natural electricity, solar energy, e-mobility and charging stations are lowering emissions, helping to avoid the use of fossil raw materials and reducing the consumption of other resources. All CO2 emissions – from production to delivery and right through to disposal – are offset. This means that every Reidinger product is 100% climate neutral.
Every pen becomes an ambassador for the environment
"From now on, the protected FSC logo, which has a strong advertising impact, can be displayed on our pens and packaging in addition to the chosen print motif, at no extra cost," explains Norbert Reidinger. In this way, customers are clearly demonstrating that they are paying attention to environmental protection when choosing their promotional gifts. "Every Reidinger pencil thus becomes an ambassador for a better world," says the company, which has been operating successfully on the market for over 35 years. Further information at: www.reidinger.de