Climate-neutral and ready for orders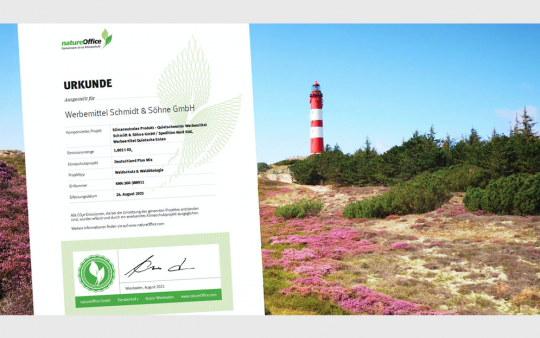 The demands on modern companies are constantly growing. Not only are the highest quality and innovations expected, but increasingly also ecologically sustainable operations. Almost three-quarters of consumers now even demand this from their suppliers.
Together with natureOffice, mbw® has succeeded in making an additional contribution to climate protection. The northern German company is launching a new software tool, which enables the calculation and compensation of CO2 emissions from the entire stock assortment. As a result, customers can now purchase on request all products (printed with a logo or unprinted) in a climate-neutral manner "for a generally small surcharge" according to mbw. This increases the attractiveness of gifts used by customers and provides an important contribution to climate protection.
In order to compensate the non-avoidable emissions in the production process, the CO2 emissions of the products will be calculated and compensated with certified climate protection projects with the support of natureOffice. The climate protection projects developed by natureOffice meet the highest standards and were certified by TÜV Süd for example. This triad of calculation, reduction and compensation of non-avoidable emissions is the recognised path towards climate neutrality.
On request and for a surcharge, a label is put on each climate-neutral product from mbw®, whose authenticity can be verified by the customer with an individual ID tracking number. This label is available in different colour and language variations. Furthermore, the customer receives a certificate of compensation of CO2 emissions. This creates reliable transparency and ensures long-lasting safety for everyone. Further information regarding the theme ecologically sustainable and climate-neutral advertising can be found at: https://mbw.sh/de/lagersortiment-klimaneutral-beziehen/