Groundbreaking ceremony at elasto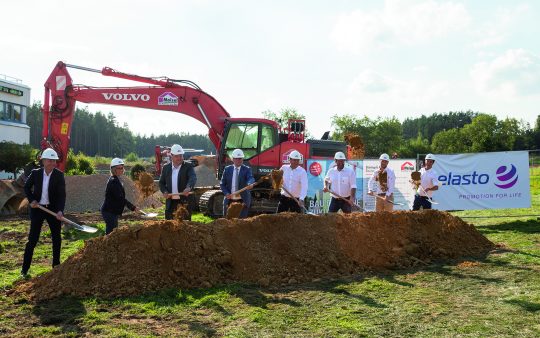 elasto GmbH & Co. KG, one of the leading German promotional products manufacturers and suppliers, is expanding its company headquarters in Sulzbach-Rosenberg with the addition of its new hall. The new hall with a floor space of 5,400 m2 is being built in several sections. The project is explicitly aimed at securing the location and expanding the company's own production in Sulzbach-Rosenberg. It will strengthen elasto's competitiveness and adaptability, and above all secure production and the associated jobs at the site.
Optimised production layout
As part of the project, the individual production units will be integrated into a new and optimised production layout. The current injection moulding facility will be moved to another hall and switched in-line. The installation of a crane system in the hall will make the set-up processes more efficient. At the same time, the machines will be connected to a central material supply, which increases flexibility. A new infrastructure for electricity, cooling and air will supply the machines in an optimal and ecologically sensible way. "The new production layout enables an expanded implementation of automation solutions, for example, to switch the production of individualised products in-line, to enhance value creation, to secure jobs and thus to be able to cater to customer requests as quickly as possible," says Managing Director Marcus Sperber.
Increasing sustainability
Being one of the first companies in the promotional products industry, elasto not only produces its products in a climate-neutral way, it has also been officially certified as a climate-neutral company by the German Institute for Sustainability and Economics at its location in Sulzbach-Rosenberg since 2021. The digitalisation process accompanying this restructuring is intended to further improve the already very high recycling rates and thus contribute to an increase in sustainability. The installation of a roof-mounted photovoltaic system and the resulting in-house use of the electricity produced will also significantly improve the company's carbon footprint.
An investment in the future
With an investment volume of almost 9.3 million euros for the planned new building – which will also include the construction of a new truck delivery zone, the renewal of the existing heating system and the creation of 55 new parking spaces including electric charging stations for employees and customers – Sulzbach-Rosenberg is taking the next big step towards a successful future. The construction project is scheduled for completion in December 2022. www.elasto.de