PSI Digital Friday October: Heading into a successful, sustainable future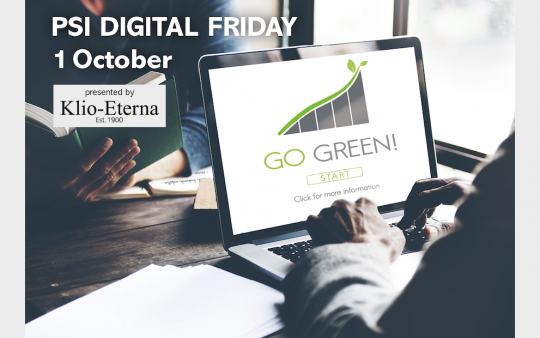 Sustainability is the way forward. Accordingly, PSI Digital Friday on 1 October 2021 – presented by Klio-Eterna – will be entirely given over to sustainable future models. A variety-filled live programme awaits visitors, comprising renowned speakers, exciting topics, plus numerous networking offers – in short, the most important developments and trends in matters of sustainability. Besides questions such as "Sustainable promotional product: Quo vadis? The PSI Sustainability Awards 2022. Status quo, significance and innovations in the promotional products industry's sustainability award", PSI Digital Friday will also shed light on how booming outdoor dining and a new law can bring fresh inspiration to the promotional products business. Also under scrutiny: single-use versus multi-use. The potential harboured by this issue will be the principal focus here.
Taking ecological action to produce sustainable writing instruments
Klio-Eterna Schreibgeräte GmbH is going to demonstrate how sustainability can be expressed in products by showcasing its sustainable production of 100 percent "Made in Germany" promotional ballpoint pens. As a company that thinks and organises sustainably, Klio-Eterna insists on energy-efficient, resource-conserving production techniques combined with the use of green electricity right across the company. Additionally, Klio-Eterna is DIN EN ISO 9001 and DIN EN ISO 14001 certified and has, moreover, initiated certification according to EMAS. Its vertical manufacturing range extends from making writing instrument barrels, through in-house refill manufacturing, to printing, or engraving, its products. Sustainability plays a crucial role along the way. The primary focus therefore lies on sustainable production articulated through a suitably comprehensive product range, which even during this year has been expanded and complemented by several models. For example, the existing recycled models Jona, Trias and Zeno have been endowed with a protective function comprising an anti-bacterial, anti-viral effect against coronaviruses and incorporated into the newly created klio protect® brand. Right on time for the year's start, a classic entered the existing klio eco® range in the shape of the "Boa matt recycling".
Custom promotional message meets sustainability
A pioneer in matters of sustainability is how Klio-Eterna describes its Shape recycling model. Product development's aim was to create a promotional ballpoint pen which, besides the standard functions and merits of a writing instrument, contributes maximum sustainability while constituting a deceptively simple, effective tool for communicating the environmental concept. Shape recycling is 100 percent produced and finished in-house at the Germany site and, moreover, conserves resources. Made out of recycled plastic granulate, this model gives pride of place to the re-using of raw materials. Besides the company's own reclaimed rubber, bought-in, recycled, single-variety granulate from industrial production is mainly used for this purpose. The many additional facets of the Shape recycling and the other writing instruments that convey, besides the custom promotional message, the concept of sustainability to the world will be explained by Ralf Richter at PSI Digital Friday on 1 October.
How to take part
PSI Digital is open to participation, free of charge, by PSI members and non-members alike. Members simply sign up in the PSI Product Finder using their PSI login details. Non-members can use a personal voucher code provided to them by a member to register free of charge. Incidentally: All those seeking to get better acquainted with the tradition-steeped, Black Forest company Klio-Eterna and its sustainable writing instrument models benefit from the exclusive klio eco® introductory campaign, saving three percent on orders for recycled models from the klio eco® brand. Simply click on the promotional offer.
The next PSI trade show will take place live at the Düsseldorf Exhibition Centre from 11 to 13 January 2022.