Ecological - from production to product to shipping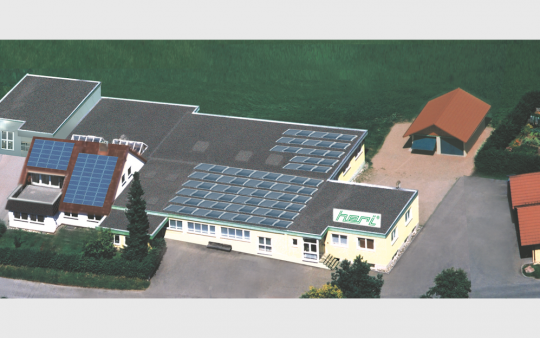 In order to achieve the climate goals that have been set, we need to take action today, and companies in particular have a big part to play in ensuring that the aspirations communicated can be successfully implemented.
The guiding principle that green products must also be truly ecological has always been integrated into the company philosophy at Heri- Rigoni GmbH, a leading non-food promotional products and traditional stamp manufacturer based in Niedereschach in the Black Forest. In recent years, the company has almost completely converted its production and product ideas to environmentally conscious promotional products. "The sum of the measures taken is paying off, and giving our customers the chance to put their sustainability activities on a further firm footing through these products," says Managing Director Armin Rigoni, in summing up the efforts of the past few years.
90 % of the packaging material is recycled
As early as 2007, the first photovoltaic systems were installed on the roofs of the company's production buildings in southern Germany, and by today the company has even been able to fully transition to climate-neutral electricity. Packaging and shipping are largely carried out according to ecological principles. For example, the company reuses packaging materials, uses recycled materials and also reports a high proportion of regenerated materials in its plastics production. Where possible, electric vehicles are used and the lighting system has been completely converted to LED. The manufacturer has demonstrated this annually (since 2013) through certification in accordance with the DIN EN ISO 14001 environmental standard. Climate considerations run through the entire supply chain: this is why the traditional Black Forest company uses GLS's climate-neutral shipping for its logistics. "This holistic approach is more than well received by our customers and partners, who can rest assured that our products deliver what they promise and that the customer is being offered a product that is environmentally friendly and green in every respect," explains Rigoni.
Sustainable promotional products – more than just a trend
"Even though climate change and other such factors mean that green thinking is once again more in the public's awareness, and has become prevalent in the media, green products are more than just a passing trend for us," says Adrian Rigoni, third-generation sales manager of the company, when describing their intention to continue to integrate climate considerations into their product development. "After all, wherever possible, care is also taken to ensure that ecological materials are the basis for the manufacture of the organic products themselves," he adds. The long-established company demonstrates this, for example, with the articles from the "Werben & Wachsen" series through the organic certification it obtained in 2018. The diverse, customisable packaging is also subjected to this test. For example, the seed bags, which are sold millions of times over, were able to be made from grass paper, a paper that is produced from a renewable raw material, namely green grass.
Also in the future, Heri- Rigoni will continue to follow this path and thus offer its customers and partners the opportunity, through genuine joint sustainability activities, to leave a healthy ecological footprint in the long term – something that puts the achievement of the general climate goals on a solid footing. Further information at: www.heri.de or www.emotion-factory.com
The traditional company Heri-Rigoni GmbH from the Black Forest which specialises in the production and marketing of writing instruments with individual, additional stamping functions and sells the unique writing instruments worldwide, is this year celebrating its 60th anniversary. In the third generation, Adrian Rigoni is on board as sales manager. Production starts at a quantity of twenty pieces, and larger quantities can also be produced at the Fischbach site.
Photo: The first photovoltaic systems were installed on the roofs of the company's own production buildings in southern Germany as early as 2007. Picture: Heri- Rigoni GmbH