For more sustainable textile products and supply chains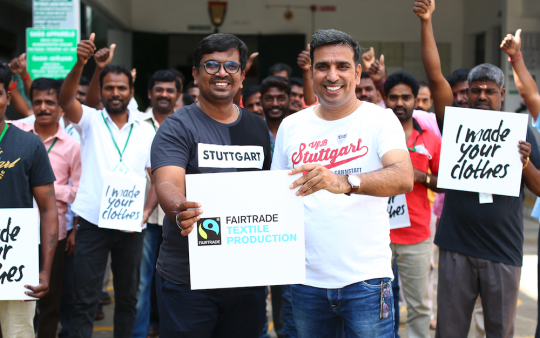 Fair play also applies off the playing field: this is demonstrated by VfB Stuttgart with their latest merchandise collection. The 35 pieces in the collection are the first items of clothing on the German market whose supply chain is certified according to the Fairtrade Textile Standard. In this way, Germany's national team is taking an important step towards improving the working conditions, and above all the wage situation, in India's textile sector: "In the production of our collection, not only quality is important, but also a responsible production, i.e. basic sustainability and fair wages. That is why we want to set a good example, and we are very proud at Brands Fashion to have a textile pioneer on board with whom we can work together to expand the number of fair textiles in our range," explains Jens Bräunig, Director B2C of the German football club VfB Stuttgart. Until now, merchandising such as t-shirts, hoodies and pyjamas were GOTS-certified and made from fair trade organic cotton. In the future, VfB Stuttgart will focus more closely on the entire value chain.
Brands Fashion – Fair trade pioneers from the very beginning
The items in this collection are produced by the textile company Brands Fashion in Tiruppur, India. "We would like to initiate a structural change in Asian textile production, and create the basic condition that people are not only able to survive on their wages, but can live well from them and be in a position to invest in their own health care or the education of their children," expounds Mathias Diestelmann, CEO of Brands Fashion. The Buchholz-based company has been campaigning for the establishment of fair textile production based on the Fairtrade Textile Standard since 2016. "It took five years to implement this high standard throughout the supply chain. No other standard is so demanding and requires so much from all participants. It is also the only one that makes a true difference for workers," says Dieter Overath, CEO of Fairtrade Germany. They are alone in the market in prescribing a time frame of six years for achieving a living wage. It is common in the international textile industry to pay only the legally prescribed minimum wage – at times even less. A so-called living wage is considerably higher and enables families to invest in their future and save for emergencies.
Background Fairtrade Textile Standard
The Fairtrade Textile Standard aims to improve the working conditions of workers throughout the textile industry. In addition to further educating employees and management, there is a trainee programme especially for young employees. Safety in the workplace and the strengthening of democratic structures also play a central role. In order to be allowed to label products with the textile seal, the entire supply chain must be certified – from the ginning plants, spinning mills, fabric production through the dyeing plants to the finishing plants. The cotton used is grown by fair trade producers and is certified and traded according to the fair trade cotton standard. In addition, each product has to carry a label giving information about how far the respective company or brand has come on the way to paying living wages. In this way, consumers can see at a glance whether the product comes from a supply chain in which living wages are already being paid. www.brands-fashion.com
Photo: The items in this collection are produced by the textile company Brands Fashion in Tiruppur, India.