Think Sustainably. Act Responsibly. #theschneiderway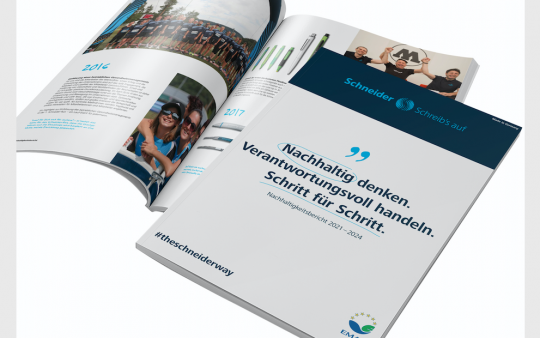 Societally and politically, sustainability is coming more and more into focus. It is increasingly more palpable and in demand in the consumer landscape as well. Going without, guilty consciences or niche "eco" products are long since a thing of the past, however. Rather, these days, sustainable business models are more popular and sought-after than ever before – especially among younger target groups – and sustainable consumption is being perceived and communicated as a positive attitude to life. Even entirely ordinary objects, such as sustainable writing instruments, can convey that kind of good feeling.
In order to transparently highlight its corporate activities, Schneider Schreibgeräte GmbH has enhanced its sustainability communication, summarising all sustainability measures under the hashtag #theschneiderway. #theschneiderway captures the company's approach to sustainability authentically, innovatively and with aesthetic appeal.
The new sustainability website https://schneiderpen.com/nachhaltigkeit/ provides a precise explanation of the whole Schneider concept. A timeline highlights how the company embarked on its green path and what milestones have been achieved in sustainable development. "We will of course continue to follow this path in the future, because sustainability is not a destination to be reached, but a journey to be undertaken. A path that Schneider has been taking, step by step, for a long time," reports managing director Frank Groß.
Various developments at the product level are also explained in detail on the new website. Schneider is performing pioneering work in the field of recycled and organic-based plastics, highlighting what is behind the materials and processing. These complex topics are explained vividly and comprehensively in an extensive questions and answers section.
In the social media, under the hashtag #theschneiderway, Schneider summarises what sustainably means in the company and at the product level too. Topics such as climate neutrality, recycled material or organic-based plastics are taken up and explained in concise, easy to understand stories and posts.
For those looking for even more figures, Schneider has compiled a detailed sustainability report including a new environment declaration. The sustainability report, 52 pages thick, is the most comprehensive documentation on Schneider's environment activities and is available for download as an online edition from the new website. It covers the essential ecological, societal and social trends of the past and describes the goals that Schneider has established for the upcoming years (2021-2024). In order to sharpen its profile internationally, the company also aspires to achieve the 17 Sustainable Development Goals (SDGs) defined by the UN.
The environment declaration, which is contained in the sustainability report, contains all key figures from the entire company across all sites. It was validated in July during the environment audit. The recording of all emissions, along with the transparent communication of the company's environmental achievements, are a mandatory requirement of EMAS, the world's strictest environmental management system, according to which Schneider has been certified ever since 1998. Schneider was recently successfully revalidated, and thus seamlessly continues the EMAS certification that began with its founding. www.schneiderpen.com
Photo: In the social media, under the hashtag #theschneiderway, Schneider summarises what sustainability means in production and at the product level.