Climate neutrality achieved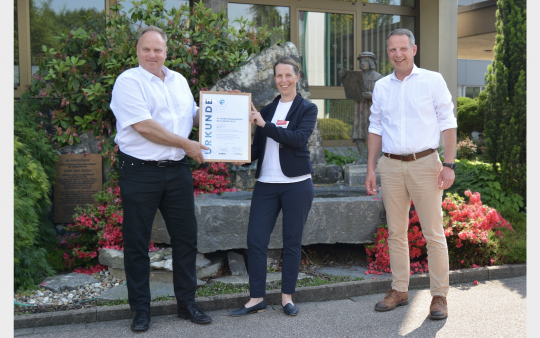 Packaging specialist Karl Knauer from Biberach has been honoured by the South Baden Association of Paper, Printing and Media (Verband Papier, Druck und Medien Südbaden, vpdm) for its 10-year membership in the CO2 climate initiative. More good news for the environment: on behalf of the Federal Association of Print and Media (Bundesverband Druck und Medien), the test institute Arktik GmbH has confirmed that Karl Knauer fully offset the energy-related emissions for the Biberach facility in 2020.
Seen from the perspective of Germany's path towards becoming a climate-neutral nation, the achievements of Karl Knauer, a company that has received numerous awards for its sustainability policy, can be seen as exemplary: "For the next generations, credible, sustainable business will play an even greater role in personal and economic decisions. We are committed to impressing our customers, employees and partners by already being 100 percent climate neutral. This means that we are already completely offsetting our energy balance," emphasizes Stefanie Wieckenberg, Managing Associate of Karl Knauer, underlining the company's sustainability strategy. The packaging expert advocates the resource-saving use of materials in the development of innovative, ecological cardboard materials and the minimization of material useage. The aim is to achieve the same or even better functionality of the end packaging product.
Project to offset CO2 emissions in Malawi
As an important part of offsetting emissions, Karl Knauer KG has supported a new, complex project since June 2021. Thereby, they are acquiring CO2 reduction certificates for the "Water Wells in East Africa" ​​project, which is "Gold Standard" certified. The Technical Inspection Association (TÜV-Nord) seal guarantees that 100% of the reported CO2 emissions are offset. The repair of damaged wells helps to improve people's living conditions sustainably. Having access to clean water eliminates the need to make contaminated water drinkable by laboriously boiling it. This saves large amounts of wood and avoids the release of climate-damaging CO2.
Many further positive effects
"In addition to climate protection, the project contributes to the achievement of the 17 Sustainable Development Goals (SDGs). These global goals for sustainable development were established by the UN and take into account all three dimensions of sustainability: social justice, environmental protection and sustainable management. As part of this project, the health of the local population is improved, access to clean drinking water is granted and, through the preservation of the forest, the local environment is protected as an important habitat for animals and plants," explains Project Management Arktik GmbH, underlining the advantages of the project.
Sustainability in all respects
"Wherever possible, we reduce and avoid CO2 emissions," emphasizes the multi-award-winning company in its recently-published Sustainability Report 2020. The company offsets those CO2 emissions that are unavoidable by supporting international climate protection projects, with which CO2 is compensated elsewhere. www.karlknauer.de
+++
Photo: Karl Knauer honoured for 10-year membership in the CO2 climate initiative. From left to right: Dr. Axel Ritter (Director IMS Karl Knauer KG), Britta Oswald-Brügel (vpdm), Michael Deronja (Managing Director Karl Knauer KG) (Source: Karl Knauer KG).