Why modern plastic products are the perfect promotional products just now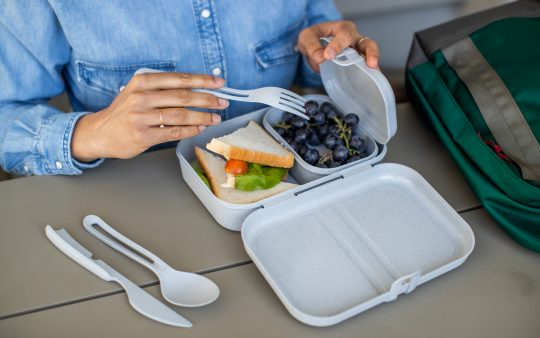 Since July the "Single-Use Plastic Directive" has been in force. How the promotional products industry can benefit from this EU Directive and which role the Covid-driven take-away boom plays here was shared by Patrick Breuer of koziol at the PSI Digital Friday. 
Society's call for sustainability is getting louder and louder. At the same time, parks, motorway exits and shopping miles are increasingly littered. This widening gap between ambitions and reality is to be closed by the "Single-Use Plastic Directive" adopted by the EU. At PSI Digital Friday Patrick Breuer of koziol explained how "plastic bashing" became a key innovation driver for the plastics industry and highlighted which new opportunities have emerged for promotional product producers as a result of this.
More waste: pandemic aggravates existing single-use problem
Single-use food packaging, plastic cups and cutlery have not only been carelessly discarded since the beginning of the pandemic. The appearance of parks, embankments and shopping streets has already been marred by heaps of packaging waste for years now – be this on our green spaces or next to waste bins. The impact of the pandemic, however, has taken the existing consumption and throw-away problem to another level. Eating out was either prohibited completely for some time due to the Covid restrictions or the experience in restaurants and cafés was strongly impaired. "To Go" was the buzzword all of a sudden. Entire menu lists were offered, packaged and sold for take-away consumption all over the place. An economic lifebuoy for many food service establishments – an enormous burden for the environment and infrastructure.
These single-use products are prohibited
To counteract the worsening waste problem the EU enforced the "Single-Use Directive" on 3 July. It governs the production and putting on the market of single-use plastic products – like the Ordinance on the Prohibition of Single-Use Plastics that entered into force in Germany at the same time. Since then the production of single-use plastic cutlery and crockery, as well as drinking straws, stirrers, cotton bud and balloon sticks has been prohibited. The same applies to to-go beverage cups, fast-food packaging and single-use polystyrene food containers – retail is only allowed to sell existing stocks. Also prohibited are single-use plates, cups or cutlery from bio-based or biodegradable plastics as well as single-use plates and trays in cardboard that only contain a small percentage of plastics or are coated with plastic.
Plastic bashing as an innovation driver
"Over the past few years single-use plastic products have been increasingly associated with negative impacts," said Key Account Manager Patrick Breuer at PSI Digital Friday describing the precarious situation for the plastics industry and plastics-processing sectors. "The truth is that we are experiencing a boom in demand despite the heated discussion about plastics and their media-fuelled bashing. After all, the prohibited single-use products urgently require legal, environment-compatible "successors" thanks to the pandemic-driven take-away campaign." This is how new demand developed among food service establishments and end users thanks to the interaction between flourishing to-go gastronomy, the new environmental conscience and the single-use plastic directive/ordinance. At the same time, a huge innovation opportunity with new sales avenues emerged for plastic producers and enormous potential for the promotional products industry.
How sustainability becomes desire
"We have understood our brief and developed cellulose-reinforced organic plastics that are processed in a broad, dovetailed value-adding range," explains Patrick Breuer and adds: "We have placed special emphasis on high-quality design here that focuses on the longevity and functionality of the products while arousing desire at the same time – and offering attractive personalisation options." A crucial point for promotional product manufacturers! After all: their clients are on a quest for attention-grabbing everyday companions for their employees, partners and customers year after year. Thanks to future-proof (circular and CO2-neutral) material innovations exciting incentives can be created in the appealing kitchen segment and office and residential applications.
For more both internal and external charisma
"For promotional items to produce an effect in the sender's interest, their design, function and touch must generally be right," Breuer added. Then he elaborated on the importance of climate-neutral promotional products for company storytelling. Using the koziol Organic Range in cellulose-reinforced plastic as an example, Patrick Breuer explained: "Be it internally for our staff or externally for customers and partners: promotional products cast a particular spell on them if they also comply with a range of sustainability criteria in addition to the aforementioned factors." In this way, he felt, the sender of an environment-conscious, durable AND attractive multi-use promotional product would clearly pitch himself in line with the zeitgeist; and credibly project the mega-trend sustainability to everyday (business) life through a simple application.