Promoting living wages in India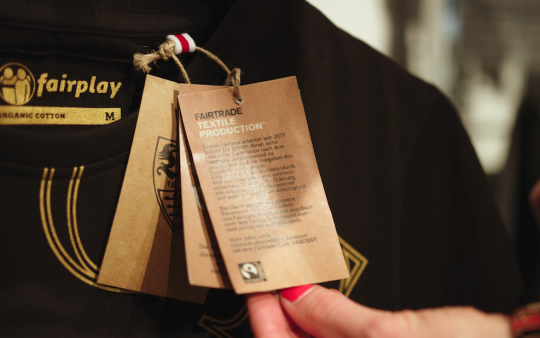 Brands Fashion, European supplier of sustainable corporate workwear headquartered in Buchholz, is the first company to offer products carrying the Fairtrade Textile Production label. The new feature of this label: the progressive introduction of living wages along the entire supply chain.
The new label, as one of the most demanding certifications, aims to ensure greater fairness and equity along the textile value-added chain. The goal is to strengthen the rights of workers and achieve living wages. Since 2017 intensive training and seminars for employees and employers have been held at the production facilities in India to raise awareness of fair wages and to sensitise and inform the participants. Furthermore, groups of democratically elected employee representatives were established. The representatives take part in specific training and act as contact persons for their colleagues on labour and social rights issues. The introduction of living wages was also discussed and laid down in concrete action plans. The participating businesses must not only ensure fair working conditions but also meet high environmental standards.
Brands Fashion implemented the standards of the Fairtrade label as part of a develoPPP development project in collaboration with the German Corporation for International Cooperation (GIZ). The project is sponsored through the develoPPP programme, with which the Federal Ministry for Economic Cooperation and Development (BMZ) supports business initiatives that deliver developmental benefits.
In 2021 it was finally possible to certify all participating businesses according to the demanding standard and thus create the first supply chain committed to the implementation of living wages in the scope of the programme. This is regularly monitored and certified by Flocert, the independent Fairtrade certification body. The first textiles that were awarded the Fairtrade Textile Production label have been available since October 2021. "We are proud to have found a first partner, the VfB Stuttgart football club, who wants to embark on this journey together with us", says Mathias Diestelmann, CEO of Brands Fashion.
"We are role models and, as such, we should lead the way by setting a good example", Thomas Hitzlsperger, Chairman of the Board of VfB Stuttgart, is convinced. He hopes that the good example will set a precedent and that other clubs in the German Bundesliga and beyond will follow. For the market launch of the new label, Fairtrade has produced a video together with Brands Fashion and the VfB Stuttgart which presents the new standard. www.brands-fashion.com