FARE recipient of the ÖKOPROFIT Operations Award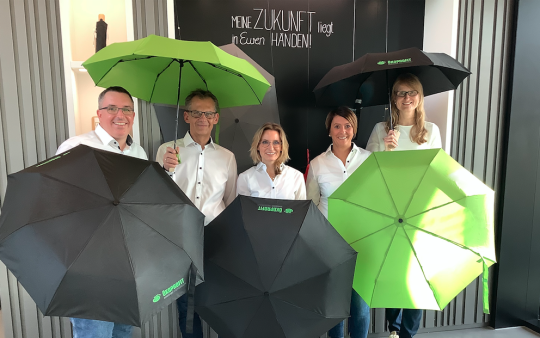 FARE – Guenther Fassbender GmbH, a specialist for promotional umbrellas from Remscheid, was a recipient of the "ÖKOPROFIT operations" award.  ÖKOPROFIT is a cooperation project sponsored by the german state of North Rhine-Westphalia.
FARE took part in the 11th project round along with 8 other companies. This project is focused on facilitating the sharing and distribution of information on the topic of environmental protection through on-site consulting, holding joint workshops and networking. The goal is to merge the economy and ecology, reduce expenses and therefor make a positive contribution to environmental protection and lowering operational costs. Within the scope of this project, FARE has developed its own environmental program and has implemented it over the duration of the project, which lasted a total of 13 months. The FARE environmental team, which is made up of employees from different departments, worked on the development and implementation of various measures. Finally at the end of 2021, it received the "ÖKOPROFIT operations" award after successfully passing inspection. The FARE environmental team also received support from the ÖKOPROFIT consultants during the project. They took a look at the operations at FARE and provided training to the employees in the environmental team. The environmental team was responsible for conveying and implementing improvement measures and for involving and motivating the rest of the staff.
According to FARE's report, the following savings have been able to be achieved since introducing the environmental program: 1,394 euros, 113.4 m3 of water, 5,780 kWh of energy and 365.1 tonnes of CO2. "This great achievement has motivated us to continue to expand the environmental program in the future," states FARE's Managing Director Volker Griesel. For example, at the beginning of the year, additional colours and models were added to the product portfolio of the umbrellas, which feature the waterSAVE® canopy material. The canopy material of the umbrellas with the waterSAVE® material is made from recycled plastic. The canopy material is dyed in a resource-saving process, which does not use water or chemicals. The company states that other projects are currently in the planning stage. The environmental team will also continue to be an idea provider and motivator even beyond the ÖKOPROFIT project and will remain responsible for the implementation of projects. www.fare.de
+++
Photo: The FARE environmental team: Sebastian Hahn (Product Management & Logistics), Frank Schmidt (Occupational Safety, Fire Safety, Building & Vehicle Fleet Management), Sarah Vennewald (Marketing), Maria Forte (General Services) and Annika Beyersdorff (Quality Management).