On the way to a transparent supply chain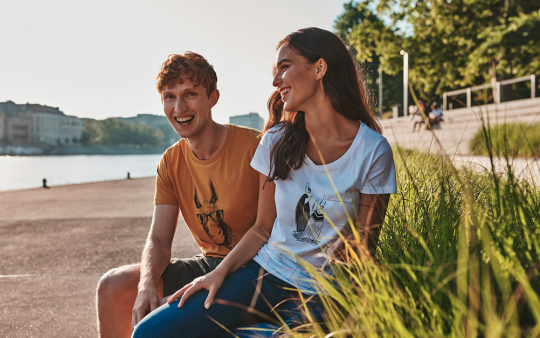 Pressure is growing on companies to fulfil their corporate responsibility right along the value-added chain. This can be accomplished via statutory requirements such as the supply chain act, or via rising customer awareness of transparency and sustainability. Smaller companies, in particular, face challenges. They often have no production sites of their own and their negotiating power with suppliers is limited. The question arises: How can these firms ensure that their own supply chains stand up to emerging requirements on protecting people and the environment?
Fair fashion label Greenbomb from Halle (Saale) was also on the search for suitable answers to this. Hence, it decided to initiate its own project for building up transparent supply chains. The premise all the way was: You can only have a positive influence when you know your partners.
"As of today, Greenbomb has managed to identify all participating fabric suppliers. In some cases, even yarn suppliers are known to us and, for multiple products, it has been possible to trace our raw materials' countries of origin. These days we are in daily dialogue with partners, and we aim to run through the whole supplier chain. This dialogue is characterised by macro-economic problems as well as cultural differences," explains Sasha Adam, Sustainability Manager at Greenbomb.
The company receives support from its partner retraced. Among other possibilities, the software solution from the Düsseldorf start-up visualises and monitors the complex structures of a company's own supply chains. Sasha Adam: "Supplier profiles, certificate overviews and supply chain mapping make it possible to manage information effectively. At the same time, the diverse items of information can be comprehensibly communicated, internally and externally. What is more, the software provides a clear tool for depicting supply chains and supplier information directly in the online shop. As a result, any distributor and end customer can intuitively witness the route the product takes."
A host of business benefits are generated through this. Among other advantages, risks can be more effectively analysed and minimised along the value-added stages. Moreover, a company's understanding of its own product is increased, which gives rise to new insights for product development. In-house sustainability performance can be enhanced at the same time. In addition, compliance with environmental and social standards is monitored and improved along a diverse array of supply chains. "This is a point that is especially important if no far-reaching standards, such as GOTS, can be used," says Sasha Adam. Finally, transparent sustainability efforts generate a constant rise in the attractiveness of the brand and its products to end customers and distribution partners.
The current endeavours by Greenbomb demonstrate that ambitious goals can be pursued even with limited resources. Sasha Adam is convinced: "With clear values, the right motivation and strong partners, even small companies can accomplish a whole lot." The company itself states that it is still a long way from that goal. There is still much to do. However, Greenbomb is holding to its aspiration to keep evolving – towards a transparent supply chain. www.greenbomb.de