Faber-Castell: CO2 emissions reduced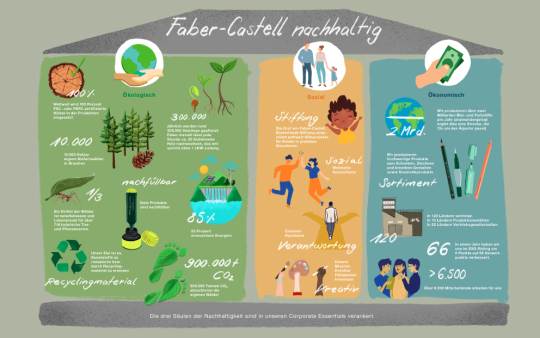 10,000 hectares of pine forest, its own produced green electricity and climate-neutral products: these are some of the ways Faber-Castell further reduced its CO2 footprint last year. According to the latest TÜV certificate, it achieved a 25 reduction, which clearly demonstrates how the company is pressing ahead with the decarbonization of its business operations.
Overall, Faber-Castell was able to reduce the CO2 emissions of its global production sites by 9,000 tonnes during the financial year 2020/21. This is the equivalent to 25 per cent lower emissions than the previous year. When viewed in terms of the number of products produced world-wide, emissions fell by 4 per cent. With this success, Faber-Castell is continuing its decarbonisation program, which it began four years ago. The company was already able to lower its CO2 emissions by around 26 per cent in the financial year 2019/2020.
The successful development is attributed first and foremost to the increased use of green energy at its production sites around the world. The Faber-Castell facilities in Peru, Brazil, Germany, Austria and Malaysia are now exclusively using energy from regenerative sources. Moreover, Faber-Castell has been able to increase the share of renewable energies that it produces itself. In 2020, its plants in India and Malaysia put their photovoltaic systems into operation. Other facilities are preparing these types of investments as well.
Company-Owned Pine Forests Ensure Climate-Neutral Production
Thanks to 10,000 hectares of company-owned pine forests in Brazil, Faber-Castell production companies around the world can manufacture their products in ten countries climate-neutrally. This is truly unique in the industry according to the company. The 100% FSC-certified forests not only offer a natural habitat for over 700 native plant and animal species, they also cover 85 per cent of the Faber-Castell Group's global demand for wood. The other wood used by the group is also FSC- or PEFC-certified, so 2.3 the billion pencils and coloured pencils it produces are made 100 per cent from certified sustainable forestry.
Last year, the emissions from some selected Faber-Castell and Eberhard Faber products were offset for the first time to achieve a CO2 neutral footprint. The group's emissions were calculated in cooperation with climate partners and offset with external emission certificates.
Faber-Castell regularly publishes its group-wide environmental figures, thereby ensuring transparency in its sustainability reporting. The company wants to reduce its environmental impact by a total of 55 per cent by the financial year 2029/2030.
Faber-Castell is a company with global operations which produces high-quality products for writing, drawing and creative design in addition to decorative cosmetic products.
https://www.faber-castell.de/corporate/nachhaltigkeit/sustainability-fact-sheets