Brands Fashion promotes sustainable cotton sourcing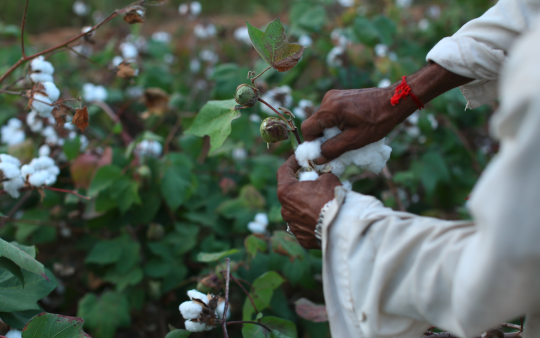 When sourcing textiles, import companies are faced with a number of challenges requiring a high degree of responsible action. Brands Fashion takes its role seriously: in addition to certifications, the renowned European supplier of sustainable corporate workwear and fan merchandise provides practical support for those converting to the cultivation of organic cotton, in its direct partnerships with cotton producers and "Cotton in Conversion" together with the GIZ/BMZ.
Promoting sustainable agriculture and fair trade are at the top of the Brands Fashion agenda. They are being actively tackled, among other things, with a project that focuses on the sports industry: together with the GIZ (Gesellschaft für Internationale Zusammenarbeit), the project "From cotton field to fan shop" aims to ensure the long-term availability of organically grown cotton. Brands Fashion is assisting 450 farmers in Gujarat, India, to switch from growing conventional to organic cotton – Brands Fashion and the GIZ have already been able to convince six football clubs of the idea.
The conversion to organic farming takes three years: that is the time needed for soil to regenerate completely and no longer contain residues of synthetic fertilizers. Official certification institutes check this process annually according to ecological requirements. During the conversion period, Brands Fashion, together with the customers involved and a project cost pool, provides financial help, including bonuses for loss of earnings. In order to create additional economic and ecological incentives for the farmers, Brands Fashion also buys transitional cotton, cotton in conversion, for which the farmers already receive a higher price than for conventional cotton. This cotton is also processed in certified supply chains that comply with strict environmental and social standards. Textile products are awarded the "GOTS Organic – in Conversion" seal, which also entitles them to be awarded the Green Button.
"From cotton field to fan shop" is a promising example of promoting sustainable agriculture and fair trade and of how Brands Fashion is implementing its strategy of entering into and monitoring direct partnerships with cotton producers, in cooperation with the GIZ and the BMZ. Partnerships like these help address cotton sourcing challenges such as rising prices, shortages and allegations of organic cotton being mixed with GMO seeds. In addition, direct partnerships have the advantage of being able to check and ensure the validity of certifications through their own monitoring.
Brands Fashion is in intensive stakeholder exchange with involved parties, on the topics of cotton in conversion, sustainable cotton procurement and fair wages, for example at the "Sustainability and Value Added in Agricultural Supply Chains" event initiated by GIZ India. brands-fashion.com