BRANDS Fashion: Sustainability in the foreground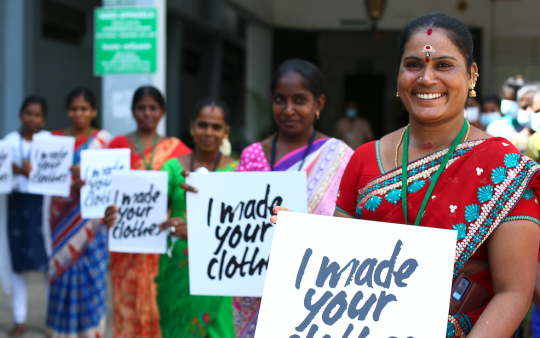 BRANDS Fashion, a Europe-wide renowned supplier of ecologically sustainable workwear and fashion merchandise, is publishing its sustainability report at www.brands-fashion.com/nachhaltigkeit/ for the years 2020/2021, a phase characterised by special challenges for the textile branch as well. The report and in particular the awards received during this time period show that the company has consistently pushed forward with sustainability measures and was able to achieve the goals it set despite the partially adverse conditions.
The approximately 90-page sustainability report from BRANDS fashion provides an overview of the work of the Buchholz-based textile company and provides information on projects and materials, initiatives, partners and supply chains as well as internal principles and efforts. The report is already aligned with the standards of the Global Reporting Initiative (GRI).
In the report, BRANDS Fashion refers to a multitude of successes – above all the awards and certificates received during the reporting period: for example, in April 2020 the textile company received the Cradle to Cradle Certified™ gold certificate after more than 12 months of preparation and development. Several notable customers of the company have ever since decided to have their entire collection or parts of it produced according to this demanding standard, which calls for a continuous and consistent circular economy in the manufacture of products without waste. As part of the envisaged circular economy, BRANDS fashion is developing, among other things, a take-back system which aims for textile recycling that preserves its value as much as possible.
Besides the preservation of resources, social justice is an additional guiding principle of the company: as a branch pioneer, BRANDS Fashion has committed itself to one of the most demanding certifications – the textile standard from Fairtrade, which aims to strengthen labour laws around the world and support living wages. The first textiles that were awarded the Fairtrade Textile Standard – thus for which all participating companies were inspected and certified – have been available since October 2021.
The transparency of supply chains has been at the top of the agenda of BRANDS Fashion for many years: since 2017, customers have had the opportunity to view the entire supply chain from the cotton field to distribution and acquire information on the names and addresses of the production sites as well as photos and social and environmental certificates. This digital tool, which was implemented under the name Trace my Shirt, was completely reworked in 2020 and bears the name TRACYLE ever since.
The report of the winner of the 2020 German Sustainability Prize for the category "Global Corporate Partnerships" contains a great deal of further information and details on the developments in the past two calendar years, for example figures on raw cotton: 83 % of the cotton purchased in 2021 came from controlled organic cultivation – which marks a significant increase in its share since 2019 (70 %). Above all, the positive developments have motivated the team from BRANDS Fashion: "Raising awareness for sustainable action is one of our most important goals. We are looking forward to advance new, innovative projects with our partners and in particular to pave the way from a linear to a circular textile economy," summarises Silke Rosebrock from the management board in the sustainability report. www.brands-fashion.com
Photo: © Fairtrade Deutschland & Pavi Siva