FARE ÖkoBrella umbrellas now climate neutral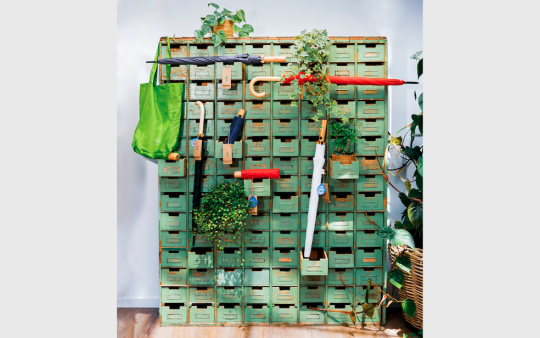 The successful ÖkoBrella product family from the umbrella specialist FARE is now climate neutral. Starting in June 2022, the umbrellas' entire CO2 footprint is being compensated through several climate protection projects. The 'climate neutral' label from ClimatePartner documents its certified climate neutrality. The label can now be found on the product pages of the FARE website and will soon be placed on the hangtags of all ÖkoBrella umbrellas, which are made from recycling paper. All of the details regarding the climate protection projects that are being supported can be found on the FARE certificate page at www.climatepartner.com/16602-2205-1002.
FARE, which has been a climate neutral as a company since 2021 and has recently received the ÖKOPROFIT Business award, is continuing to consistently pursue its sustainability strategy by ensuring the climate neutrality of the ÖkoBrella family. Not only the environment profits from this; customers benefit, too, with their own climate protection goals, because climate neutrality is secured for the entire supply chain through the certified 'climate-neutral' label for the company FARE (corporate carbon footprint, CCF) as well as for the ÖkoBrella umbrellas (product carbon footprint, PCF). This also facilitates the implementation of sustainable company policies in its promotional product segment.
Through the joint efforts of all their suppliers and service providers, CO2 emissions could already be significantly reduced across the entire FARE portfolio over the past few years. Unavoidable emissions produced by the ÖkoBrella family are now being compensated for through climate protection projects in Indonesia, Brazil, Haiti, the Philippines, India and Sierra Leone. Plastic waste is being collected, for example, to reduce pollution in oceans and to recycle plastic. Solar and wind parks are also being set up to generate clean energy. The project in Kono, Sierra Leone is a good example of how on-site involvement protects the climate in tangible terms. Local wells are being put back into operation and are maintained on a regular basis so that the regional supply of clean drinking water is ensured and boiling water over a log fire is no longer needed. This enables a savings of approximately 10,000 tonnes of CO2 emissions per year. FARE achieves a total of 15 points with its climate protection projects and is also making a meaningful contribution to achieving the sustainable development goals of the United Nations (https://unric.org/en/sustainable-development-goals-remain-eus-compass/ ). Details about the UN's goals for sustainable development are also listed on the FARE certificate page.
The ÖkoBrella name has been in the company's program since the ecologically-friendly umbrella was introduced in 2011, and it has stood out with innovative features, such as its bamboo frame sourced from sustainable forests or the model that is primarily produced from recycled or renewable materials. It did not take long for the umbrellas to receive recognition: In 2017 and 2019, the ÖkoBrella was honoured at the PSI Sustainability Awards. The entire sustainable product series, ranging from mini-pocket umbrellas to guest umbrellas, now features waterSAVE covers made from recycled plastic, which require 90 per cent less water when they are produced. This leads to an impressive savings of six litres of water per umbrella.
On the way to climate neutrality, FARE took the first step for determining the CO2 footprint of the umbrellas: Together with ClimatePartner, FARE calculated the total CO2 emissions, starting from production up until transport, including packaging and waste disposal (cradle-to-gate plus end-of-life analysis). The second step entailed analysing all of the options for preventing and reducing CO2, such as establishing energy saving programs and selecting CO2-neutral service providers, etc. Once the scope of the unavoidable CO2 emissions was determined, the third step could be undertaken where climate protection projects were selected. By supporting these projects, the company can specifically offset the amount of CO2 emitted in a transparent way. This was followed by the fourth step in which the ÖkoBrella family was awarded the 'climate-neutral' label, which independently ensures the umbrellas' climate neutrality and transparency at all times. www.fare.de
FARE on Facebook: www.facebook.com/FARE1955
Photo: The entire ÖkoBrella family now has the 'climate neutral' label. Photo: Axel Bühner