Terminic: Bee sponsorship renewed again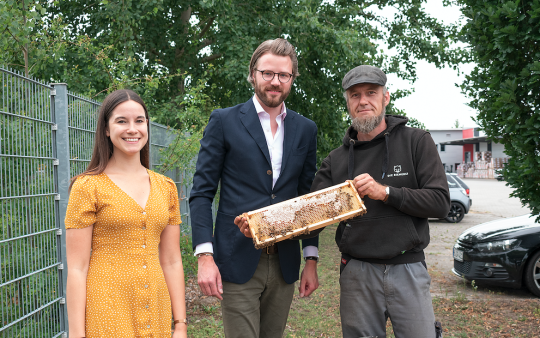 Since August 2019 around 50,000 bees have found a home yet again in the outdoor areas of the calendar manufacturer Terminic's facilities in Bremen. The company has agreed to a one-year bee sponsorship for the fourth time in a row. The partner for the bee sponsorship program is 'Die Bienerei' from Weyhe, which is run by the brothers and Bioland beekeepers Axel and David Zehle. They regularly look after the ecological bee colonies on the premises in Bremen-Hemelingen and make sure they have everything they need.
'The bee sponsorship is an important part of our endeavours of advocating for the protection of the species living in our region. It was also important for us to have a regional partner on our side. Now we have decided to take on a one-year bee sponsorship for the fourth time, and we honestly cannot imagine our entrance gate without the bees anymore', explains Managing Director Huschke Rolla du Rosey. The company supports the ecological bee colony as part of their commitment to regional biodiversity. Bees contribute to maintaining plant diversity by pollinating plants and thus ensure an important nutritional basis for different animals and humans as well.
'Bees are very important for our ecosystem, which is why we are even more delighted when our clients like Terminic GmbH decide to renew a bee sponsorship. When they do this, they are not only making a contribution to the regional diversity, but they are also offering bees a habitat', says David Zehle, founder and owner of Die Bienerei. The bee sponsorship also has another positive side-effect for Terminic: Every year the calendar producer receives high-quality honey produced by the bees on its own grounds, and the company loves to give it away as presents.
The sponsorship for the ecological bee colony is not the only project that Terminic GmbH implemented in the area of regional species protection. The family-run company in Bremen has set up a biotope in the outdoor areas of its facilities, which offers many living creatures protection and food.
https://bienerei.com/  • www.terminic.eu
Photo: Paulina Rottmann, Corporate Communications at Terminic GmbH, Huschke Rolla du Rosey, Managing Director of Terminic GmbH and David Zehle, Bioland beekeeper / owner 'Die Bienerei' (L/R) are delighted about the decision to renew the bee sponsorship.