Schneider: Sustainability with tradition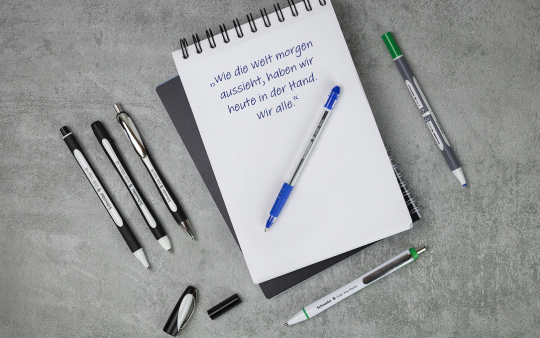 The ballpoint pen is the undisputed favourite promotional product on the market. The company Schneider Schreibgeräte has been a competent expert of manufacturing ballpoint pens for more than 80 years. Sustainability is also an essential part of the company's philosophy thanks to the proximity of the company's facilities to nature. Quality, innovation and a clear commitment to sustainability have led to the fact that six out of the ten most sold pens in Germany are made by Schneider. They are developed and produced in Germany.
Numerous examples of sustainability
Schneider is located in the Black Forest and the highland region of the Harz in northern Germany. 'Sustainability has deep roots in the company's philosophy thanks to the company's close proximity to nature, and it guides Schneider like a compass when decisions have to be made', explains Managing Director Christian Schneider. Conservation of resources, climate protection, waste prevention, energy efficiency and the exclusive use of renewable energies are only some of the many examples of how the company demonstrates its ongoing commitment to sustainability.
Certified according to EMAS
According to a company statement, Schneider is the only writing instruments manufacturer to have EMAS certification for all of its production facilities; EMAS certification is issued by the European Union and is the most demanding environmental management system certification process in the world. One of the main EMAS requirements is that producers must have an ongoing improvement process with new, continuously-updated environmental goals. This also includes reducing emissions and harmful CO2 (greenhouse gasses).
Climate-neutral manufacturing
However, Schneider's impact has limitations (e.g. processes at sub-suppliers), which is why Schneider has commissioned climate partners with the task of keeping track of the unavoidable CO2 emissions it generates. Schneider has already been manufacturing many of its products and series in a climate-neutral manner for many years, including the Slider series. It recently decided to produce and sell its entire range of promotional writing instruments in a climate-neutral way as well in order to be able to give back to the environment and society even more. This means the emissions that are inevitably generated while producing promotional writing instruments (product carbon footprint) are being offset by investing in certified climate protection projects. Reducing and offsetting unavoidable emissions is undertaken during and after production (scope 3). The payments Schneider makes to offset these emissions go towards the climate/rainforest project known as Pará in the Amazon region of Brazil. In this way, Schneider is supporting and promoting the protection of one of the most sensitive ecosystems on the planet. www.schneiderpen.com
Photo: The Slider series from Schneider Schreibgeräte fulfils an important criterium: Users feel good about the brand each time they hold it in their hand. © Schneider Schreibgeräte