RASTAL is once again manufacturing the official Oktoberfest collector's mug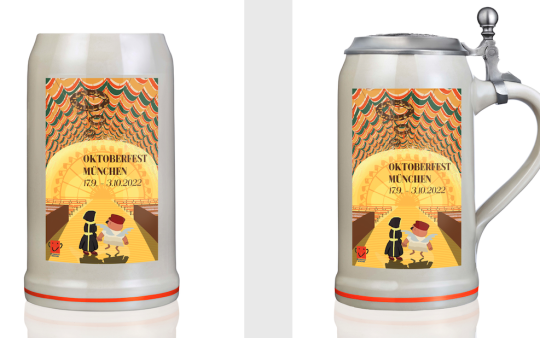 RASTAL, the renowned manufacturer of table and drinking culture products, has again been entrusted with the production of the official collector's mug for the Oktoberfest, the world's largest folk festival which is taking place again on the Munich Wiesn after two years of the Corona pandemic.
This mug, which is exclusively manufactured by the tradition-rich company RASTAL, is just as unmistakable as the Oktoberfest itself. The simple shape of the grey stoneware beer mug, which is also known as "Keferloher" in Bavaria, has remained unchanged for more than 100 years. Only the official collector's mug bears the Oktoberfest poster motive, which changes every year. It is manufactured by means of extremely complex manual work as a highly limited edition.
The poster motive for 2022 illustrates the yearning for the Oktoberfest. With his design, Leo Höfter directly appeals to the feelings of the Oktoberfest fans and the anticipation for the event. To capture the magic of the moment, the self-taught Munich-based artist chose a radiant shade of yellow as a symbol for light. A bright glow outshines the Ferris wheel and marquee. Full of anticipation, the well-known Munich originals, the angel Aloisius and the Munich Kindl, enter the scene hand in hand. There is also a long tradition of decorating the tin lids of the collector's mugs with portraits of Oktoberfest originals. This year, the image of the former Oktoberfest beer tent host "Franz Xaver Kugler (1873 – 1935)" is imprinted on the handmade lid.
The company RASTAL, which is based in Höhr-Grenzhausen in Rhineland-Palatinate/Germany, manufactures the coveted collector's item with high recognition value in a complex manual process. The high-quality workmanship, which is visible in the many details, makes the official Oktoberfest mug a valuable example of traditional craftsmanship. On request, Rastal still manufactures the stoneware and tin lid according to the masterful tradition of the so-called Kannenbäckerland of the Westerwald region. The authentic and highly limited annual mug for the largest folk festival in the world is available in the beer tents and well-known points of sale as well as in the RASTAL online shop. www.rastal.com