Daiber signs the WIN-Charta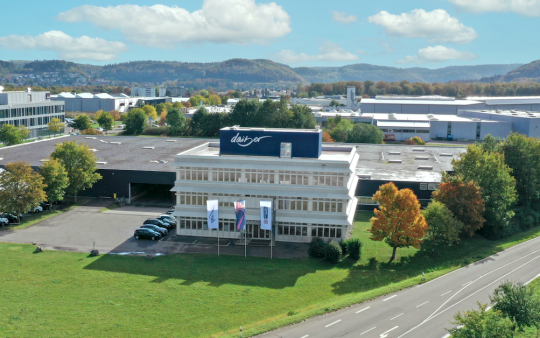 Renewable energy, transparent supply chains and fair labour conditions – the Gustav Daiber GmbH textile company is aware of its economic, environmental and social responsibility. In signing the WIN-Charta, the sustainable management system launched by the state of Baden-Württemberg, it is boosting its efforts to address these issues. In signing the charter, Daiber has pledged to observe the twelve principles for sustainable business and to improve its sustainability on an ongoing basis. One major step has already been taken: Daiber's main site in Albstadt switched to 100 per cent green electricity in August.
Sustainability as a factor for success
As Daiber sees it, sustainability is one of the crucial factors for success. This is why Managing Director Kai Gminder has signed the WIN-Charta on behalf of the textile firm that is thus committing itself to sustainable business practices. Gminder: "Energy and emissions, product accountability and creating incentives for a change in policies are the main focus for future efforts towards sustainability." In addition to the planned measures, the prime objective based on the WIN-Charta also covers previous sustainability achievements. Gustav Daiber GmbH has been member of the amfori Business Social Compliance Initiative (BSCI) since 2012 and is thus committed to social provision and fair working conditions in the international supply chain. In future, the focus will increasingly be on environmental protection with the help of the planned introduction of the amfori Business Environmental Performance Initiative (BEPI).
Many options for greater sustainability
It is clear that the focus in current sustainability efforts is on actions that are ecologically beneficial: Daiber collaborates with the not-for-profit myclimate foundationand has consistently developed measures to reduce carbon emissions since 2018 using annual analyses. For example, increased amounts of sustainable materials such as organic cotton and recycled polyester are used in production. Articles in defined product groups are packaged in recycled poly bags. What is more, the main catalogues Daiber produces each year with ClimatePartner are carbon-neutral. An internal recycling system including a cardboard press also plays a part in the responsible value chain.
Saving energy and cutting emissions on site
The key words are green electricity, bike-to-work and electromobility. Since the main site in Albstadt switched to 100 per cent green electricity, carbon savings of around 300 tons a year have been achieved since August. albstrom aqua is generated from hydropower and supplied by Albstadtwerke (utility company in Albstadt). Charging points powered by green electricity are already in place for the firm's fleet of hybrid vehicles. In addition, staff are regularly made aware of sustainability issues and can play an active role in climate protection via campaigns such as the bike-to-work scheme subsidised by Daiber. As part of the CITYCYCLING campaign, Daiber staff got pedalling in aid of climate protection and made seventh place in the Zollernalbkreis district. With an average of 334 kilometres per person, they achieved third place in the local 'race'. CITYCYCLING is a nationwide competition in Germany where participants aim to travel as many kilometres by bike as possible within 21 days, protecting the environment at the same time.
Fair working conditions and long-term partnerships
Apart from environmental protection, social sustainability is of particular concern to Daiber. As part of the JCK-Holding GmbH Textil KG group of companies, the firm has adhered to the JCK code of conduct when working with suppliers since 1999. As a result of this and its membership in amfori BSCI, it complies with binding requirements relating to social issues and fair working conditions throughout the world. "Long-standing partnerships and close contact with suppliers are a given for Daiber," said Gminder. Environmental measures already put in place at Daiber will be recorded and reviewed once the amfori BEPI system has been introduced as planned. Following critical examination, new approaches will be developed and implemented to achieve greater product accountability and a more responsible value chain – such as currently in progress with Daiber's main suppliers for the T-shirts, polo shirts and sweatshirts groups of products. Progress in implementation will be documented transparently and the sustainability pledge will be renewed each year in order to permanently establish the sustainability process initiated with the WIN-Charta.
For details of sustainable products from the Gustav-Daiber brands JAMES & NICHOLSON and myrtle beach go to: www.daiber.de/de/company/sustainability/products