International campaign for communicating sustainability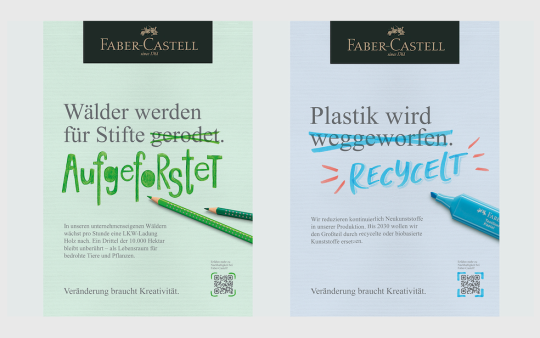 In September Faber-Castell launched an international campaign to inform people about the wide variety of measures it is taking to ensure sustainable production. Through its communications, the company seeks to underpin its leading position in the industry when it comes to sustainability and to make its commitment visible all over the world. Faber-Castell turned to cultivating the company's own timber back in the mid-1980s. 10,000 hectares of pine forests supply the company with its own certified timber for producing pencils. Forest management is however only one element in an ambitious sustainability programme that makes use of a sweeping campaign with a global reach in order to inform consumers about the company's intergenerational, future-oriented commitment.
The campaign slogan is "Change needs creativity". Creativity disrupts entrenched patterns of thought and reveals new approaches that Faber-Castell is taking to overcome global challenges such as climate change, the plundering of resources and the threats posed to ecosystems by plastic waste. Living sustainably and freeing up creativity are firm components in the company's common values and business mission. "The campaign slogan is in keeping with Faber-Castell's core values" said chairman of the board Stefan Leitz. "We are a long-established company that has consistently and successfully demonstrated creativity and the courage to make changes during the course of its history. For progress simply isn't possible without ideas. That also applies to preserving our planet in all its beauty and diversity."
When it comes to communicating the content, the starting point is a sustainability strategy that Fabel-Castell recently adopted as part of a multifaceted growth programme for the next five years. Using its slogan "One Faber-Castell – creating a colorful future" the company intends to gain market shares on a global scale. The communications about sustainability not only focus on strong core messages in media coverage but make use of QR codes to point to the company's underlying goals, measures and progress reports in the context of its annual sustainability report.
Campaign content demonstrates how Faber-Castell repeatedly arrives at creative solutions for sustainable actions. The articles are shared internationally via social media and conventional media. They also appear in the company's internal communications channels. The group hopes to convey its extensive commitment to protecting natural resources to its customers, business associates and all employees and to establish Faber-Castell even more firmly as a sustainable brand.
What is more, as part of the "Change needs creativity." campaign, further attention-garnering activities are planned that will position Faber-Castell on the international market as a company with a clear strategy for sustainability.
For more information, go to the menu Company > Sustainability > Sustainability- Fact Sheets: www.faber-castell.de • www.faber-castell.com