Sustainable Products at PSI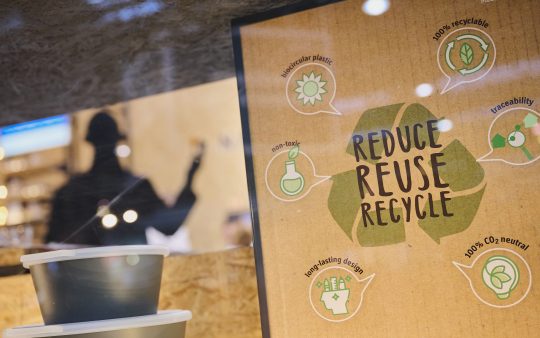 Promotional products should promote a sustainable corporate image. For 91 percent of companies, sustainability plays a role when purchasing promotional products. This is one of the findings of the German Promotional Products Association (Gesamtverband der Deutschen Werbeartikel Wirtschaft, GWW) in its annual industry survey for 2022. A trend that will also be reflected in the product range at PSI 2023.
According to estimates by the "Ellen MacArthur Foundation", it is expected that there will be more plastic than fish in the sea by 2050. The young company "Ocean Bottle" wants to counteract this and has therefore designed drinking bottles that are made of insulated stainless steel, recycled plastic that would otherwise end up in the ocean, and other durable materials. Each of their drinking bottles also funds the collection of 11.4 kg of ocean plastic, which is equivalent to about 1,000 plastic bottles.
The Swiss company "My Dropz" also fishes one plastic bottle out of the ocean for every bag of their Dropz sold. Their products are designed to minimize the use of PET bottles and to add flavor to conventional tap water – similar to effervescent tablets. So, there's a choice of a wide variety of flavors, such as ginger apple or blueberry. The Dropz are produced in a resource-friendly way and packaged completely plastic-free.
Another creative and sustainable gift idea is available from "Die Stadtgärtner". Instead of a bouquet of flowers that only lasts a few days, you can alternatively give away a square meter of colorful flower meadow in the form of a flowering area sponsorship – not only the recipient will be happy, but also the bees.
An in the truest sense of the word blooming idea had the exhibitor "Maxilia Werbeartikel": Their paper, which can be individualized for greeting cards, for example, consists of compostable materials and seeds and can be planted in soil. So, with a little water and sunlight, in one or two weeks you still have something from your promotional gift and can enjoy beautiful flowers.
Sustainability also brought to the stages
The topic of sustainability was also not neglected in the lecture program on the first day of the trade fair: Lutz Gathmann (freelance designer and certified safety engineer) dealt with sustainable materials in his keynote speech. Afterwards, Alexander Stork (speaker, Der Mittelstand. BVMW e.V.) spoke about how companies can benefit from sustainability trends and secure competitive advantages.