uma: Towards electricity self-sufficiency via photovoltaics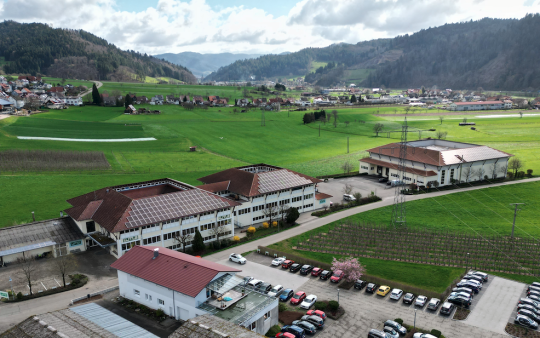 uma Schreibgeräte Ullmann GmbH from Fischerbach in the Black Forest is investing in self-sufficient electricity production. "Late last year we installed a photovoltaic system on our roofs, and now, in April 2023, it is fully operational. This investment marks a further considerable improvement in our ecological footprint. It means we're not just 'writing' sustainably, we're living sustainably too," reports Managing Director Alexander Ullmann.
The extensive system is mounted on all 3 site buildings, one to the west, one to the south and one to the east. With this, uma attains a self-sufficiency rate of 40%, which is considerably above the average for conventional systems. At approx. 450 kW/peak, it is one of the larger systems in the Kinzig Valley / Black Forest. The whole of production, the offices and the warehouse have a self-sufficient electricity source immediately at their disposal. Electricity not used on site – anticipated to be 240 MWh annually – will be fed into the public grid. "By doing this, we're not only taking care of green electricity at uma, but also contributing to supplying the region sustainably," Ullmann emphasises. www.uma-pen.com
Photo: The uma company buildings in Fischerbach with their photovoltaic roofs.