JAMES & NICHOLSON and myrtle beach present climate-neutral main catalogue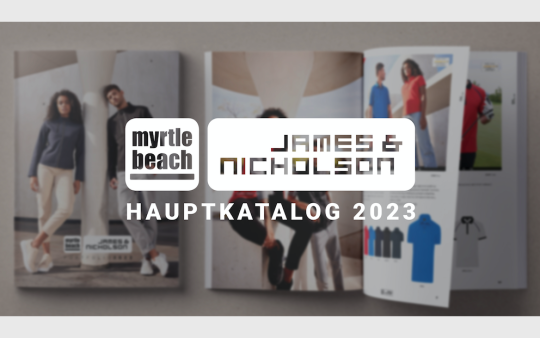 The new main catalogue of the Gustav Daiber promotional textile brands JAMES & NICHOLSON and myrtle beach has been available since the start of the year. Also included on its pages is the 2023 collection featuring many product highlights and high-impact crossover styles. As a Climate Partner, family-run company Daiber is once again supporting sustainable projects, in order to compensate for CO2 emissions generated due to the catalogue's production.
On-the 604 pages of the new main catalogue, JAMES & NICHOLSON and myrtle beach present, besides the approximately 800 items already in existence, 24 product novelties from the 2023 collection. The two brands' product range has been expanded by luminous signal colours for enhanced recognisability at the workplace, gleaming cotton styles for after work, and additional stylish crossover items that punchily combine work and leisure. Sustainable materials, such as organic cotton or recycled polyester, also continue to be at the focus.
Among the product highlights of this year's collection by JAMES & NICHOLSON are the mercerised polos (JN1300/JN1301), which are available in three style variants with different fits. Their specially pre-treated cotton lends the polos a particular gleam. Also very new in the portfolio are the one-size bistro aprons (JN1880/JN1881) in various models.
This year, too, the partnership with Climate Partner is enabling Daiber to compensate completely for the CO2 emissions that arise during catalogue printing. This is performed through supporting internationally recognised climate protection projects such as Columbia's biggest project, REDD+, which safeguards 1,150,200 hectares of rainforest and helps to preserve its biodiversity at the same time. Further projects include protection against commercial deforestation of more than 97,000 hectares of the Brazilian forest in Pará, in order to allow an alternative source of income for local families, along with the repair of wells in central Eritrea, securing communities' access to clean drinking water. In conjunction with regional engagement, for instance the Bergwaldprojekt e. V. for the care and preservation of indigenous forests, Gustav Daiber GmbH assumes responsibility for people and nature with its two proprietary brands. "Giving something back to the environment is a matter that's close to our heart," says managing director Kai Gminder. "For that reason, we strive for more and more sustainability in all areas, not only when it comes to our products, but during our corporate activities too."
Production of the catalogue also falls under that category: for the inside, Daiber has exclusively used Steinbeis recycled paper. The latter is distinguished with the Blue Angel and the EU Ecolabel. In comparison to working with conventional paper, savings of more than 80 percent water, 70 percent energy and half of CO2 emissions are thus made during catalogue production. The new main catalogue for 2023 is available for free download and digital browsing.
Photo: The climate-neutral main catalogue for 2023 from JAMES & NICHOLSON and myrtle beach. (Source: Daiber)