Climate-neutral, sustainable, regional and fair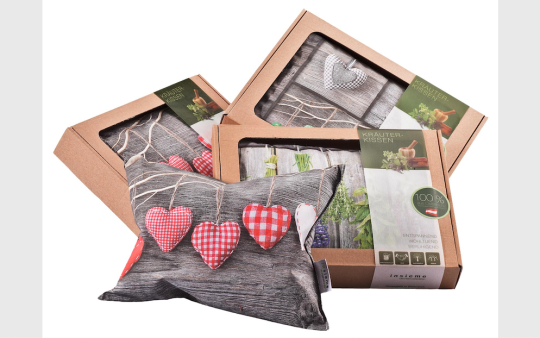 In these times when more and more articles are manufactured in the Far East and shipped to Europe, insieme textil GmbH has set an explicit goal: to manufacture a range of textile articles in Austria and Europe once again.
The Austrian company is committed to using sustainable materials for this, organic cotton for example, and traditional craftsmanship. "Quality is a high priority for us. We consider it vital that transport distances for our raw materials are kept as short as possible in order to protect the environment. This is why 95% of our raw materials come from Austria and Germany. Our fillings – including scented fillings but also cherry stones, grapeseeds and many others too – mostly come from domestic raw materials and from certified organic growers", explains Christoph Holly, managing director at insieme.
"We have set ourselves a goal: we will not only offer our customers superior-quality products but also promote a responsible lifestyle. Then again, we attach great importance to sustainability and are committed to protecting the environment – in particular, our business and products have been carbon-neutral since 2021 – and we ensure fair working conditions. This is the underlying philosophy for the natural pads that are aimed at a growing group of customers for whom natural materials and sustainable products are important. The electricity required for our production processes comes from our own photovoltaic panels on our roof. What is more, we manufacture our products in eco-social workshops in order to help people here too", he adds. insieme textil can make fully customised versions of the different natural pads according to customer wishes, even for small-volume orders. However this is not all – the producer's portfolio also includes neck pillows, cotton throws woven in Austria, felt mats and coasters, kitchen aprons, gym bags and many other products too. Learn more and request samples from insieme textil. They will be happy to give you information and arrange a chat with you: www.insieme.at/calendar