EcoVadis Gold for Know How International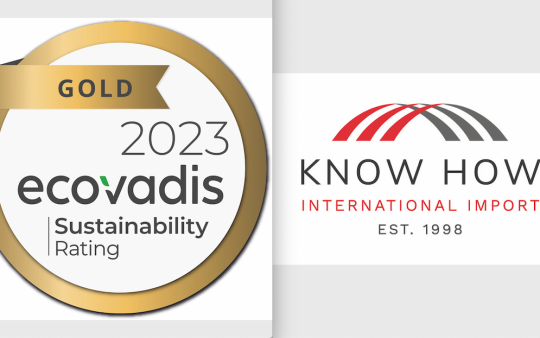 Know How International GmbH & Co. KG, an importer of customised promotional products and packaging based in Hirschau/Germany, has undergone the annual EcoVadis certification for the fourth year in succession and achieved the Gold standard.
EcoVadis has been conducting sustainability evaluations of companies since 2007, and with "more than 100,000 companies rated" (source: EcoVadis) has evolved into a certification company of international renown. The basis of the appraisal is formed by the main topic areas of environment, employment and human rights, ethics and sustainable procurement.
Now, due to continuous further optimisation in these areas, Know How International has succeeded in making the leap from Silver to Gold. The company thus ascends to the top 5% of the firms certified and appraised by Eco Vadis. "We are delighted that we as an importing company with a focus on promotional products and packaging have achieved this goal and we will of course take it as an incentive to pursue and uphold the achieved standard in the future," says CEO Peter Baumann. www.k-h-i.de